Make Money Online (UK)
Wondering how to earn money without a job?
I have put together a well-researched list of real ideas that will help you make money online if you live in the UK.
They range from easy side jobs to online work that can make you a full-time income from home.
I have written many posts on side hustles for those living in the US, from stay-at-home mom jobs to online jobs that require little to no investment.
But today I will only be talking about the best ideas to make money online in the UK.
When I started my work-at-home journey in 2018, I came across ideas that either paid pennies for a lot of hard work while others turned out to be scams.
That's when I decided to start a flexible online business that would be perfect for me as a stay-at-home mum.
I chose to blog and it has been the best decision ever.
I now make a full-time income from home and I have compiled a list of over 25 ideas that will help you make money online, including online surveys that pay cash.
*This post may contain affiliate links. Disclosure here.
How can I make money fast in the UK?
Passive income is one of the best ways to make money online in the UK and anywhere in the world. Passive income is where you make money in automation – 24 x 7. Some examples of passive income are making money with a blog, earning with your YouTube channel or selling products online like an ebook, course or even digital stickers!
You can either choose to sell on your own website or another platform like Etsy or Amazon.
If this is your first time selling online, you can consider Zen Arbitrage. Perfect for beginners, this online tool that lets you re-sell books on Amazon for profit. There is no need to worry about stocking up or shipping products. Everything is done online from your laptop. Suprisingly, this side hustle is earning people over $40,000/month. Check out our full review Zen Arbitrage here along with members income reports.
For convenience, I have split this list into two – easy side hustles (up to £300/month) and online jobs (£2,000-£4,000/month)
How to make money from home UK
EASY SIDE HUSTLES
Swagbucks is one of my favourite money-making websites. There's more than one way to earn with Swagbucks and you can cash out daily through PayPal or gift cards.
Here are the 5 best ways to make money with Swagbucks
Shop online and earn cashback
Search the internet using the Swagbucks website to earn points that are redeemable for cash
One of the best free paid survey site in the US and UK.
Watch videos
Play games
This is a market research website that pays you for answering questions. They pay a flat fee of £3 a survey which is a lot better than some surveys that pay pennies. But you can join by invite only, here is the link to sign up.
Earn money for your opinion to help in research work. Once you sign up, you can choose from a list of studies, like this one below that pays $5o for a 60-minute zoom call. If you receive an invite to participate, you get paid on completing the study. Payments are made via PayPal. Apply here to begin.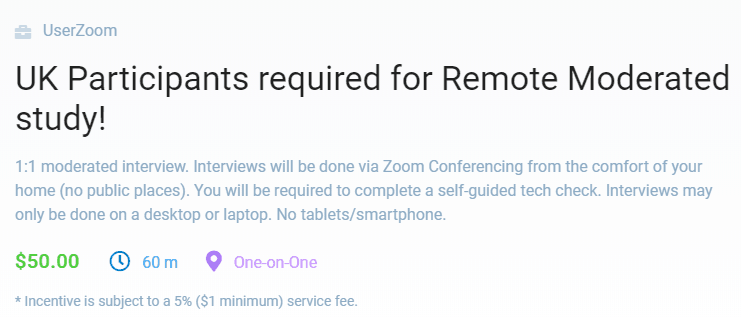 To earn money you will need to install the app on your device. It is limited to 3 devices per person and can earn up to £15 each month. You can earn more money by referring friends and family or by taking part in online surveys.
Once you sign up, you will have all the information located in the Survey Savvy dashboard.
One of the most passive ways of earning money is with the Nielsen Panel App. Download their safe and secure software on to your computer and be automatically entered to win cash rewards each month.
This is another rewards site that pays you to do surveys, search the web and read emails. A ccording to thier website they have paid out over £40 million to its members so far.
A popular survey site where you only need £2.50 to cash out either with PayPal or an Amazon gift card. You need to be 18+ years and live in the UK to sign up.
Here are two other survey sites to try, if you enjoy doing surveys.
Make money from home UK
8. Proofreading
If you have an eye for detail, you can make money from home as an online proofreader. Proofreading is the final stage in the editing process of an online content. This can range from ebooks, blog posts, social media content and more.
As a proofreader, your job will be to read through the content and correct grammatical errors. Here is a popular free proofreading workshop by Caitlin Pyle who shows you what the job involves.
Here are 25 places that are hiring online proofreaders.
9. Virtual Assistant
This is a flexible job option that involves working as a personal assistant – online. Tasks involved are, sending and receiving emails, following up pending tasks, maintaining social media accounts, typing up notes and other admin tasks. Download this free list of services you can offer as a VA.
As a virtual assistant can further expand your career to become a Pinterest VA or a Real Estate VA.
10. Online Bookkeeping (No degree needed)
If you are good with numbers, you can work from home as a virtual bookkeeper. Cheyenne, a stay-at-home mom and Kevin, a stay-at-home dad are both earning a full-time income working as a bookkeeper from home. And the best part is you do not need experience. Check out this free class that will answer your basic questions on bookkeeping.
Read more on Cheyenne and Kevin's story here>
11. SEO consultant
There are so many blogs and websites that are looking to grow their business through SEO (Search Engine Optimization). This means trying to rank a website in Google and other search engines. While managing an online business is hard work, SEO works often gets outsourced.
As an SEO consultant, you can help manage their blogs and online business to rank better to get more visitors to their business.
Here is a free 5-day online Bootcamp on SEO.
12. Transcription
Transcription work involves converting a set of audio or video files into text. Here is an expert interview by Janet Shaughnessy of Transcribe Anywhere that explains the role of a transcriptionist in detail. She also covers the basics of transcription with her 7-day free mini course.
20 online transcritption jobs available
13. Freelance Writer
As a beginner freelance writer, the best way to build experience is by writing short articles for magazines. Here are 16 sites that pay up to £150 ($200) per article. For those looking to make a full-time income as a freelance writer, Holly Johnson who makes over $200,000/yr and has created this free online training sharing some inside tips.
14. Blogging
This is the side hustle that makes me money from home in the UK. I started blogging in 2018 when my kids were under 3 and slowly build this into a full-time gig. Bloggers make money from ads that appear on the site, affiliate income or by selling your own online courses.
Here is a step-by-step tutorial on how to start your first blog from scratch.
15. Sell an eBook
Create an ebook, set your own price and sell it. Sounds easy but it is a competitive industry, so you can create your first ebook for a really cheap price. I used Canva a free app that will help you create a pdf file for your ebook. I used Canva again for designing my ebook cover and Sendowl (£8/month) to take care of payments and transactions.
Once the ebook is created in Canva, upload the book to Sendowl and you receive a link that you can use to promote on social media or through a blog to sell your ebook.
16. Teach English Online
If you have a bachelors degree from the UK and reside in the same, you can teach English online with Education First. Any previous teaching experience like mentoring, coaching, homeschooling or tutoring is required. You can earn up to $20 (USD) an hour teaching primary school students.
Check out Education First here.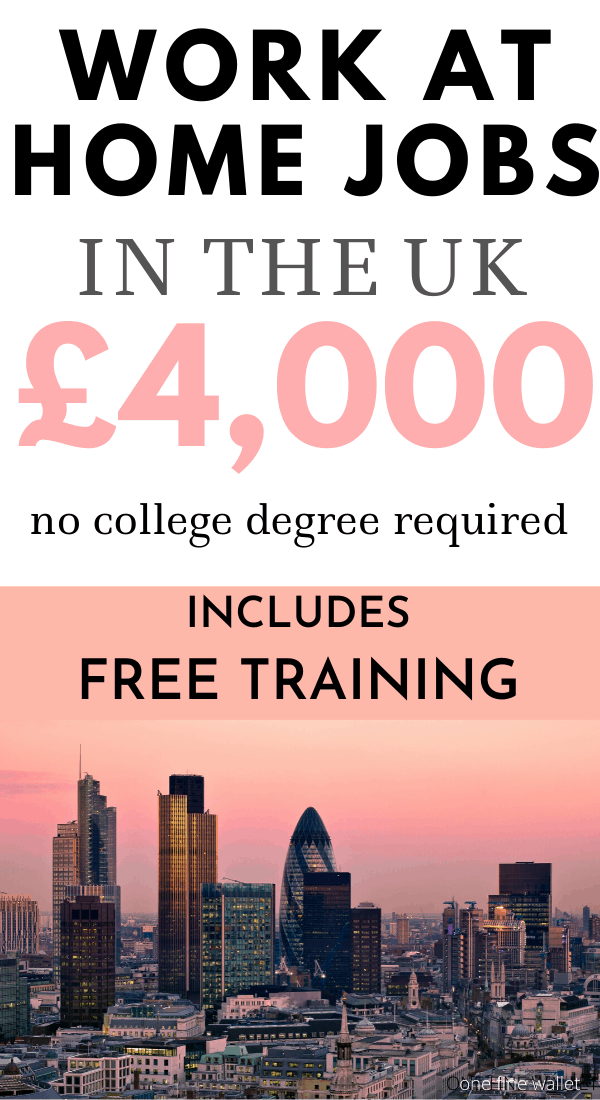 Make Money Online UK
2 Popular Money Making Sites
Earn up to $50 each time you share your opinion about products and brands - available to those in the US, Canada and Australia. Join Survey Junkie here, it's free!
Take part in daily surveys worth up to $35 with Swagbucks.