*This post may contain affiliate links. Please read the full disclosure here. 
Interested in taking part in paid research studies?
Before we begin, let me just clarify that this is not an online survey company that will pay you a few dollars for completing surveys.
Instead, Respondent is a high paying market research company that pays between $100-$700 as an hourly incentive.
This is a company looking for both professionals and non-professionals that are ready to give valued opinion and feedback to help researchers.
From what I have seen, they pay between $25 to $300 per study, ranging from 20 to 90 minutes.
Respondent.io is one of the highest paying market research platforms to earn extra money for providing your opinion.
This is a platform that outsources participants to help researchers with their study or work.
Individuals are recruited to take part in online or in-person studies. On completion of your task, you get paid money.
With paid survey sites you can't make any more than $200 a month. Having said that, Survey Junkie is one of the most well-paying ones in the market, where you can earn up to $50 a survey, but is only available to those in the US, Canada and Australia.
Earnings with Respondent are a lot higher.
Once you sign up and access your dashboard, you can see that most studies are worth up to $300. Respondent also has shorter surveys that are 20-30 minutes long.
They are looking for suitable professionals who are willing to give an honest opinion about a product. And it's not just for professionals, you can be a student (above 18 years) or a parent to apply, as opt for categories that suit your interest.
The Respondent website shows they have paid out over $10 million till date. The average length of a study is 30 minutes and you have the potential to earn up to $140 an hour.
It is free to join and available to a worldwide audience.

Is Respondent IO legit?
Yes, Respondent io is a legit company that was started in 2016 in Brooklyn, NY.
They have since been trusted by researchers from leading brands like Yahoo, Microsoft, Airbnb, IBM, Dropbox and more.
♦ Join Respondent.io here
What is Respondent Survey?
To make this simple, Respondent is an online platform for researchers and respondents (you).
Researchers publish studies daily that they require respondents to complete. Once you sign up filling out your interests and demographics, you are connected to studies relevant.
Choose the ones that suit you the most, as you get to see the length of a study, the amount you can earn and the type of study – online or in-person.
Below is how your Respondent portal would look like.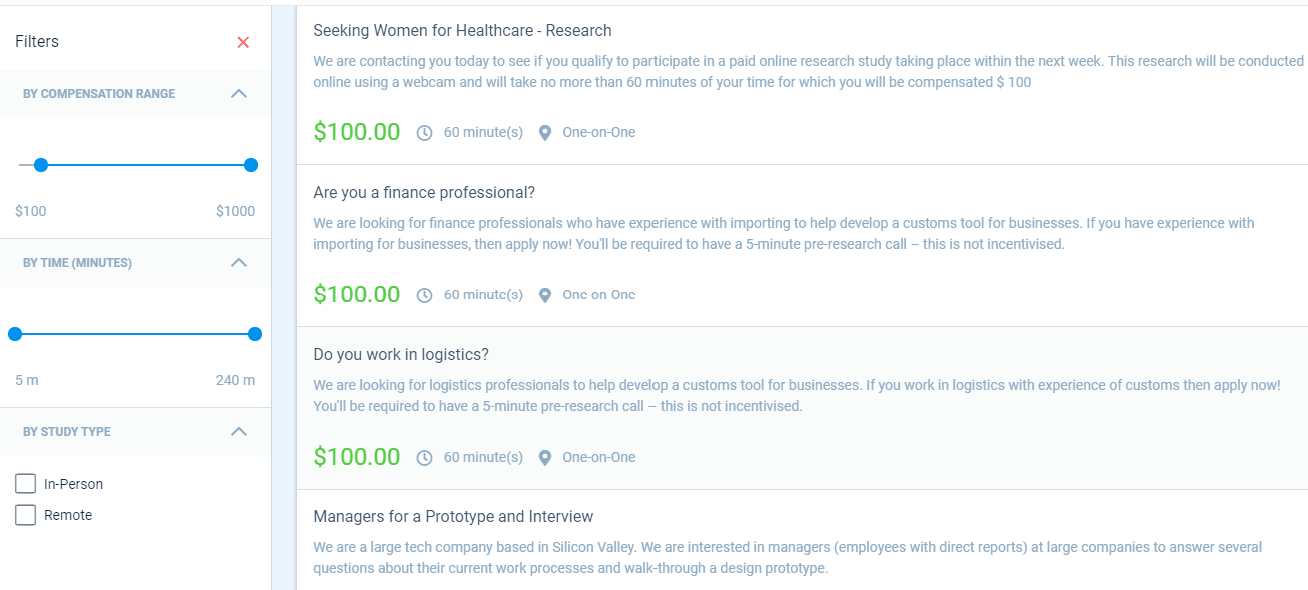 On the left, you get to filter out the price for the study, the time you wish to spend and the type of study – remote or in-person.
And on the right, you see the list of studies you can choose to try.
Related:
How does it work?
Getting started is pretty straight forward. Here is a four-step break down of how this works.
Sign up using either your Facebook or LinkedIn account.
You will be sent relevant research studies that suit your profile.
Set your own time to schedule the study – preferably a quiet home environment.
Get paid via PayPal.

Once you have access to the Respondent dashboard, you can login anytime and participate in studies.
They might sometimes email you when a suitable study is available. But you have more opportunities when you sign in to your dashboard, either once or twice a week to look for new studies.
On the right side of your dashboard, you can control the type of studies you want to do.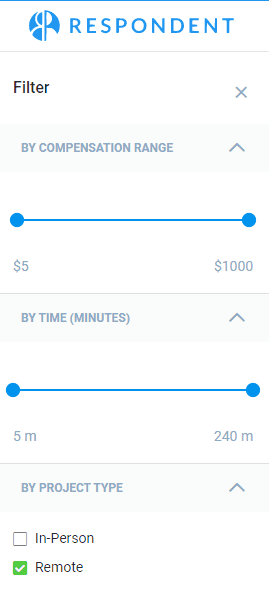 Filter by payscale, time of study and even choose between remote online work or in-person paid research studies.
When it comes to remote study, there are two ways you can do it, and not all studies require you to schedule a call.
There are two types of online studies available.
Moderated – This is where you book a time to schedule your session.

Unmoderated – You just receive a link to complete the study at a time that is best for you.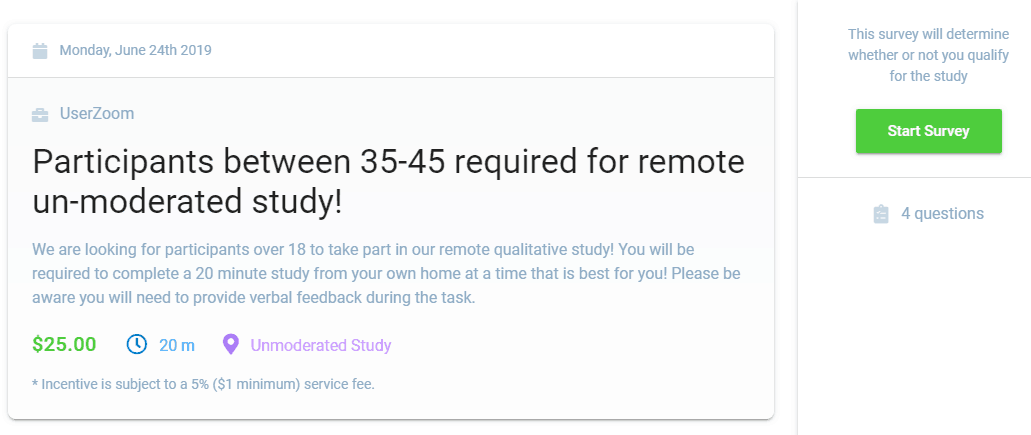 The earning potential is a lot higher with moderated as they can go up to $140 an hour for most.
While unmoderated is still good as you can earn an easy $10 for 10 minutes of your time.
♦ Sign to participate in Respondent.io here.
How does the invitation work?
After you choose the study you want to take part, you will need to answer a few pre-screening questions.
---
Make extra money by browsing the web, watching videos, playing online games and testing new products - clothing, food, cosmetics and more! Its free to join. Sign up for your chance to
get a $5 Swagbucks bonus.
---
The researcher gets to decide who they would like to send the invites to.
Once you receive your invite, you can proceed to take the test and get paid.
Here's a little recap.
Join Respondent => Choose a study => Answer a short survey => Researcher send you an invite => Complete the study => Get paid.
Who is eligible?
You need to be 18 years and older to apply. They have studies available to a worldwide audience, although a majority of the studies are available to US residents.
They are looking for participants that include professionals, parents and students. They have a wide range of research study opportunities to help connect you with the right project.
A PayPal account is necessary as that is their mode of payment to you. You will also need to have a Facebook or a LinkedIn account to sign up. They need this for verification to be accepted into their program.
How much can you make with Respondent?
Participants can earn between $100-$700 an average hourly incentive based on the skillset.
Sales and Support – $100 an hour
Marketers – $150 an hour
Enterprise software users – $150 an hour
Software developers – $200 an hour
Business owners – $500
Executives – $700
How does Respondent pay you?
They pay by PayPal on completion of each project.
Unfortunately, they don't use any other form of payment options.
There is no minimum required before you can receive your money. So on completion of each study, you get money into your PayPal account within 7-10 business days.
Setting up a PayPal account is free and can be done in a few minutes.
Respondent collects a 5% fulfilment fee on the incentive you are paid.
Respondent Referral Program
Once you sign up with Respondent, you can access your unique referral link and share it with family and friends to sign up.
Sharing your referral link can be done by email or social media.
You can earn $20 to $50 per eligible referral and get paid through your PayPal.
Respondent has paid out over $949,150 in referral so far.
---

---