*This post may contain affiliate links to products I use and trust. Please read disclosure here.
Planning a family vacation can cost so much these days. And it gets even more expensive if you have a large family. I recently read something that said when kids reflect on their childhood, they remember experiences more than "things" that were bought for them. That made me feel that I should prioritize taking family vacations over buying the latest toys. But, we all know vacations can get pretty costly. So I have compiled a neat little list that will save you hundreds of dollars on your travel.
7 Tricks to save money on travel
1. Go During the Off-Season
Most destinations have a busy season and a non-busy season. The busy season is usually the time of year that's most desirable for a given location. So, the Smokey Mountains and Disney World wouldn't have the same busy season.
Visiting a location during the off season doesn't mean that you can't still have a good time. In fact you may be able to enjoy yourself more. During the summer, the mountains are green and lush. This makes driving less treacherous and hiking more accessible. Unfortunately bears are out of hibernation, so get back in before dark!
If you were to go to Disney World during the winter months, you'd escape the heat and the long lines. Not to mention you'd have a better selection of places to stay.
The most important reason for traveling during the off-season is of course the cost savings. Businesses take advantage of popular travel times and increase their prices severely. I can't say I blame them, it's a smart business move.
We out smart them by doing our traveling when the demand is low and the supply is high!
Let's see how this plays out in real life.
You want to go on a family vacation in Charleston, SC. This is a beautiful city that people tend to frequent between March and November. Due to its proximity to local attractions, you choose the Vendue Inn as your hotel.
If you stay at the Vendue Inn October 5th- October 8th, it will cost you $432/night. You plan that same trip for December 7th-December 10th and it drops to $209/per night. That's over 50% cheaper! You can take the savings and put that towards another vacation!!!
2.
Check Outlying Airports
It had never occurred to me to check other airports when traveling. I always went for convenience. Usually when you live in larger cities, you're only aware of the popular airport.
Let's say you live in Charlotte, NC and want to travel to New Orleans, LA the weekend of October 8th. You would assume that your only option is to fly out of the Charlotte Douglas Airport into the New Orleans International Airport.
You could do this and your flight would be $323 round trip. That's not too bad! But, what if you could fly even cheaper?
There is another airport 26 minutes from Charlotte Douglas International Airport, Concord-Padgett Regional Airport. If you booked your flight for the same weekend out of this airport, it would now cost you $186 round trip. That's 42% cheaper!!!
Now, keep in mind smaller airports typically do not have a large flight selection. Meaning they may not fly to your chosen location every day or they may only have one flight out per day. Also, they may utilize "budget" airlines.
Budget airlines are able to offer cheaper rates because they tend to be fee heavy. Some of them charge booking fees, a checked baggage fee, carry on luggage fee, and a fee for choosing your own seat. The ancillary charges can add up pretty quickly!
3.
Take Advantage of an Infant Lap Child
Did you know that children under the age of 2 (24 months) do not have to have a seat on the airplane? They can sit on your lap coming and going! With most airlines there aren't any fees involved at all with domestic flights. Talk about a cost savings!
With international flights, the infant's ticket fare is normally 10% of the adult fare plus taxes. That's still not bad.
Keep in mind you can only have one lap child per adult. Said adult has to be over the age of 15. Also, if your child turns two during the course of the trip, you'll have to purchase a return ticket for them.
4.
Utilize Hotels with Kitchens and Kitchenettes
When families travel, one of the largest expenses can be eating. You have to have breakfast, lunch, and dinner. Not to mention, the kids will want snacks too! That can add up pretty quickly.
Initially it may seem like staying at a hotel with a kitchenette will be more expensive than staying at a traditional hotel.
Let's go to Orlando the weekend of October 5th.
You can stay at the Courtyard by Marriott Orlando International Drive/Convention Center. This is a 4 start hotel that's 3 miles from Universal Studios. It will cost you $491 + taxes to stay for the weekend. Keep in mind you'll also be eating out for 3 meals.
Your other option is to stay at the Floridays Resort Orlando. This is another 4 star hotel that happens to be 3 miles from Universal Studios. Guess what? They offer 2 bedroom/ 2 bath units with a full kitchen. Want to know the price? $281 + taxes for the weekend.
You can offset your cost even more by utilizing the full kitchen and not eating out for every meal. Sounds like a win-win to me!
5. Check with Wholesale Travel Programs
Both BJ's and Costco offer discount travel programs for their members. Both offer many different travel options to include: all inclusive trips, hotels, flights, and rental cars. When planning our last trip, we found that the wholesale websites offered all inclusive trips for much cheaper that some of the more popular travel sites.
When comparing prices, also remember to look on the direct website of the hotel or resort. The hotels often run specials and you can end up with a better deal. In our case, we identified the amenities we wanted in a resort (two bedroom, two bathroom, full kitchen), compared reviews of the properties, and compared price points from different websites.
We ended up booking our room directly through the resort website because because of the price difference. We choose our location based on the price of flights which we ultimately booked through a discount airline.
We booked our rental car through the wholesale website. We got our car for 50% cheaper than some of the popular travel sites. It actually was cheaper for us to rent a car than it was to pay for shuttle service to and from our resort.
There are banks and credit cards that also offer travel programs. There are so many options out there and it is very much possible to stay within budget if you do your research ahead of time.
6. Buy Souvenirs for your Children Ahead of Time
n popular vacation areas, we all know their merchandise is overpriced. Buying souvenirs can take up a large portion of your travel budget. Getting creative and buying items ahead of time, can help save money that can be used towards other aspects of your trip.
Put together a souvenir basket for each child to use while on the trip. Check out amazon, Walmart, Dollar Tree, or other online retailers for items and have them in the hotel for the children the morning of your first day of vacation. The children do not have to know that the items were purchased prior to the trip. If you are an Amazon Prime member order items ahead of time and have them delivered directly to your hotel.
Get creative with the baskets and give the kids a small budget they can use to buy one or two items they may want while on vacation.
Below are two examples of inexpensive themed souvenir baskets.
Beach travel basket:
T-shirt (with the City name)
Sunglasses
Sand items (bucket, shovel, etc)
Drawstring back pack to hold items
New swim gear
water bottle
Water toys
Snacks
Individual gift card
Disney travel basket:
Disney themed shirts
Autograph book for favorite characters
Special autograph pen
Water bottle
Disney themed toy, stuffed animal, or doll
Book or coloring book
Snacks
Individual gift card
7. Book all Inclusive
When comparing destinations and hotels, take advantage of all inclusive offers or properties that have kid friendly amenities. An all inclusive package that includes meals can be a little more pricey, but can save money in the long run. Some packages may include free breakfast or two meals a day, but can save a lot of money for traveling families.
When booking our resort through the hotels website, we found that our hotel had packages that included free meals for children. This deal was not advertised through any of the popular travel websites.
Also take advantage of properties that have kid friendly amenities. Being able to relax and have fun without having to travel outside of the resort was attractive to us during our last trip. Being able to take a day to unwind without the pressure of having to be anywhere was a huge win. When planning our trip we found resorts that included, Water parks, pools, game rooms, family activities, and kid specific activities at no extra cost.
As you can see, it is quite possible to take a family vacation and not break the bank. You can use all 7 ways to save money on your family vacation or you can pick one or two. Either way you'll be saving money!
Have you used any of these suggestions before? How do you save money on your family vacations?
Pin for later!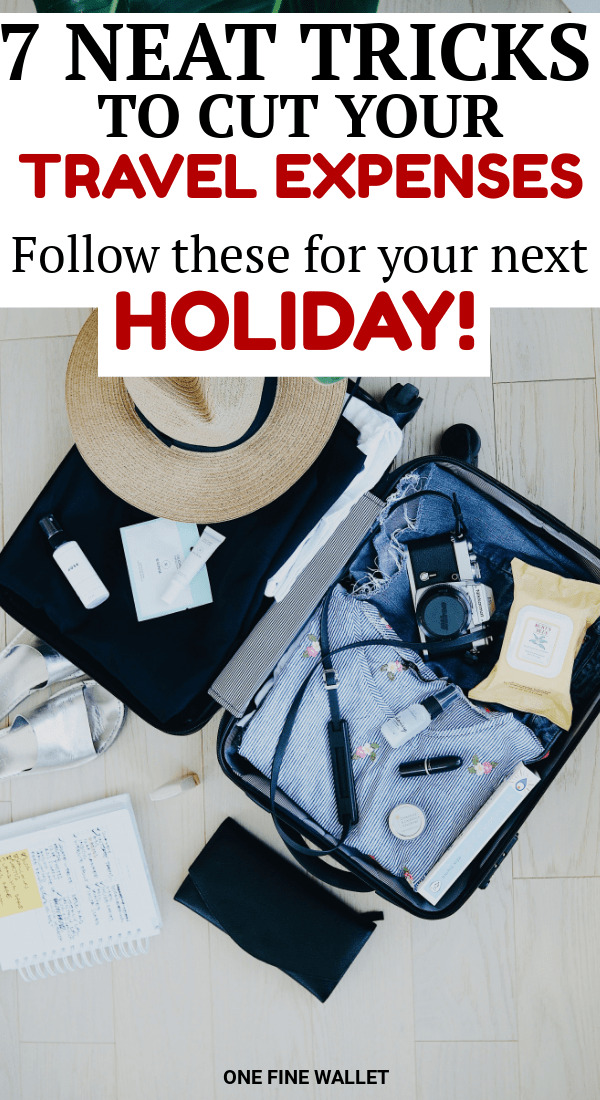 Keyona and Tiana
Guest bloggers
Keyona and Tiana are new mothers that blog over at Professional Momma. They share the real and unfiltered truth about the balance of being a mother, a professional, and a woman.
2 Popular Money Making Sites
Earn up to $50 each time you share your opinion about products and brands - available to those in the US, Canada and Australia. Join Survey Junkie here, it's free!
Take part in daily surveys worth up to $35 with Swagbucks.