*This post may contain affiliate links. Please read the full disclosure here. 
Pinecone Research Sign Up
Pinecone Research is one of the most exclusive survey panels in the market that will help you earn extra money.
Side hustles from home are becoming popular these days, and with the help of legit survey sites, you can earn extra cash to pay off utility bills, grocery shopping or petrol.
*This post may contain affiliate links. Disclosure here.
While there are only a handful of sites that pay up to $50 a survey, Pinecone Research is different. They pay you a flat fee for each survey you complete.
This way you can rest assured you will get a set fee on completion of the surveys. This is by far a lot better than sites that pay less than a dollar for 30 – 40 minutes of your time. Pinecone Research offers shorter surveys and a great way to make a few quick dollars.
What is Pinecone Research?
With Pinecone Research, you not only answer surveys to help in online research, but also get paid to test products. This helps companies review and improve products before they hit the market.
As a compensation for your time in answering surveys you get rewarded in the form of cash or gift cards – the choice is yours.
Who are eligible to apply?
They are currently only open to those living in the US, the UK, Canada and Germany.
Is Pinecone Research Legit?
Pinecone Research is run by Neilsen which is a leading market research company. They have a 3-star rating on Trust Pilot with a lot of mixed reviews. The reason for the mixed reviews is mostly because of the number of surveys you receive. The vast majority say they don't receive many surveys as they used to.
But if you are happy earning a few extra dollars for a few minutes of your time, then Pinecone Research is worth trying.
How to join Pinecone Research?
The big question many ask is, "How do I join Pinecone Research?"
The reason is that Pinecone Research does not allow you to sign up from their website. You are required to have an invite link to join as a member – which is 100% free.
Once you sign up they will review your application before you get access to test products or answer surveys to help in online research.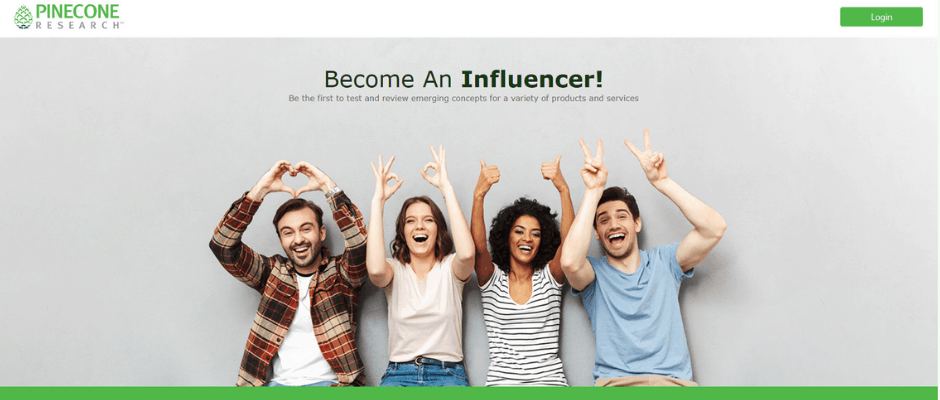 Sometimes they limit the number of people they accept and may close applications certain times of the year. So do check regularly to see if they are still accepting. Once you sign up, you will need to accept the confirmation email you receive to be offered surveys.
The good thing about this research site is that they do not clutter your inbox sending surveys that don't suit you. The surveys that are emailed out are only those that are applicable to you. This is one of the contributing factors to why many users are not satisfied with their earning potential.
The important thing is to provide the right information when filling out your profile, as this will help in qualifying you for the right surveys. You can choose to make changes and update your profile section once you log into your account even at a later stage.
How to Sign Up for Pinecone Research Surveys
Step 1
Join using this Pinecone Research invite link,
Step 2
After you sign up for Pinecone surveys, you will taken to a page where you fill in details like,
1. Name
2. Address
3. Email
4. Contact Number – For verification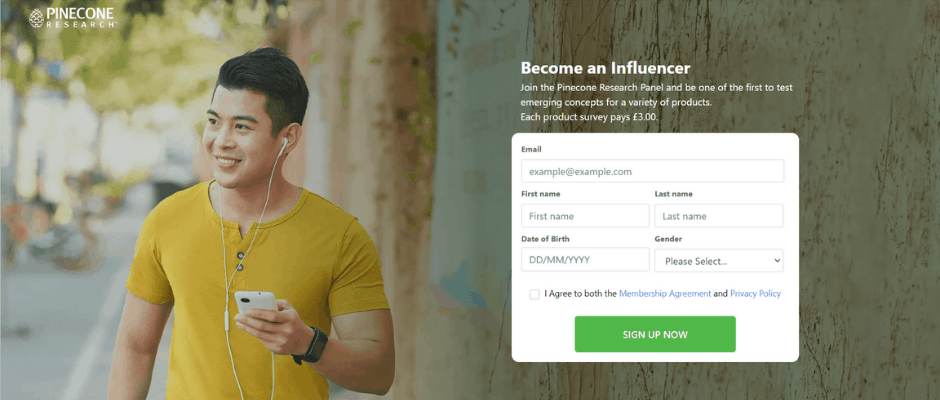 Step 3:
Final step, is to take a short survey to see if you qualify. This survey usually takes less than a couple of minutes to complete, and usually asks basic lifestyle related questions. This survey is necessary to complete your registration.
How much money can you make on Pinecone Research?
As previously mentioned, Pinecone Research provides a set fee for each survey.
Most surveys pay between $2-$3 and the questionnaires are usually under 15 minutes.
Pay can increase to $5 for longer surveys and even more for product testing. Apart from Pinecone Surveys, you also get the opportunity to test products before they hit the market. On receiving the samples, you will be given follow-up questions to answer based on your experience as a customer.
While Pinecone Research is a good side hustle, the number of surveys you recieve each month are limited, which means you may not be making money every day.
If you are looking for more ways to earn extra cash from home, I highly recommend you check out these money making side hustles;
How do you get paid?
Payment is through PayPal cash. You get the money transferred to your account on completing each survey. So the good thing is there is no need for you to reach a minimum balance to cash out.
However, it does take 3-5 days before it reaches your PayPal account.
Something worth mentioning is that they pay cash, as compared to the majority of survey sites that offer rewards and free Amazon gift cards.
Pinecone Research Alternatives
Apart from Pinecone surveys, here are some other well paying alternatives.
1. Branded Surveys
Get paid cash for sharing your opinion through surveys and daily polls. Join the thousands who have fun making money every day with Branded Surveys.
The surveys are usually under 10 minutes and you get paid through PayPal cash or virtual gift cards.
2. Swagbucks
Swagbucks is a rewards program that not only pays up to $35 a survey, but you also earn money to search the web (like Google and Yahoo), watch videos on Swagbucks and get cashback for your online shopping.
They make earning fun and have diversified the way you can earn money because there is more than one way to earn. Referring friends and family to join also add bonus points, that are redeemable for PayPal cash or gift cards from popular retailers like Amazon, Target and Walmart.
3. Survey Junkie
Finally, we have Survey Junkie. With over 6 million members making money from home, Survey Junkie allows participants from the US, Canada and Australia to sign up.
---
Get $5 for signing up with Swagbucks:
Make extra money by browsing the web, watching videos, playing online games and testing new products - clothing, food, cosmetics and more! Its free to join. Sign up for your chance to
get a $5 Swagbucks bonus.
---
One joining their free program, you can complete surveys and also take part in their product testing opportunities that pay well.
Pinecone Research App