Surveys for cash only
Yes, there are legitimate online surveys for cash to help you make extra money on the side.
Sure there are a vast number of surveys that pay you for your opinion, but unfortunately, not all are genuine.
And, not all pay well.
So we are narrowing down to 8 high paying survey sites to earn an extra $500 a month.
With these surveys, you can get paid up to $50 or even $100 per survey and get cash transferred to your PayPal account. So make sure you have set up a PayPal account to receive funds. It's free to sign up for one and only takes a few minutes to join.
Sure you are not going to make you a full-time income, but the few hundred you make can pay for your college/household expenses or help you get out of debt.
This list only has surveys that pay cash only, and not ones that offer gift cards. Because at the end of the day, real cash is what we need to pay bills right?
If you are wondering how to get free money on PayPal, this is one of the easiest ways to do it.
*This post may contain affiliate links. Disclosure here.
$100 per survey
1. Survey Junkie
This is one of the most reliable survey sites that pay cash, and that's why I have Survey Junkie at the top of my list.
Once you sign up you can choose between short surveys that take only 1-3 minutes of your time or longer surveys that are 15-20 minutes. I have put Survey Junkie to test and made over $45 in under a week doing the shorter surveys.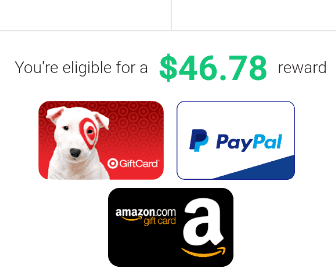 You can choose to be paid through gift cards or PayPal cash, and you only need to earn a minimum of $10 to cash-out.
This survey is available for those living in the US, Canada, and Australia, and need to be over 13 years to apply. This is an easy way for teens to make money.
2. Survey Club- $115
This is one of the highest paying survey sites in the market. You earn for product research and taking surveys for focus groups that pay as high as $115 per study. See this food survey below.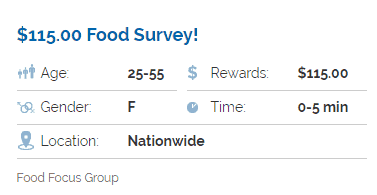 Once you sign up with Survey Club, you will receive research studies that are relevant to you. Since part of the signup procedure includes you filling in details like age, gender or marital status, they will be able to provide surveys that are of interest to you.
Survey Club is currently available to anyone living in the US, UK and Canada. Sign up here for free to begin earning.
3. Panda Research – $75/week
Panda Research is a research company that pays you cash for completing questionnaires on research related topics.
You get to earn an instant $3 sign up bonus to get started and you have the option to make extra money by referring friends to Panda Research.
Payments to you will be made twice a month, on the 1st and the 15th through PayPal.
Get your $3 sign up bonus for Panda Research here>>
4. Vindale -$50/survey
This is another popular research company and one of the highest paying survey sites that pay up to $50 per survey.
Some ways to earn with Vindale Research apart from taking surveys are:
Find reward codes and earn cash throughout the week.
Get $5 for every friend referral
Receive a $5 bonus when you send a photo of yourself with your Vindale payment.
Earn cash for reading emails.
And finally, make money for watching videos.
Earn $1 bonus when you sign up right here>>
5. MindsPay – $50
This is a website that pays you to evaluate and review products.
Once you sign up, you will receive emails on products and services for you to give your feedback. MindsPay is currently available only to those living in the US.
Registration is free and you get paid cash into your PayPal account.
Payments are made twice a month, on the 1st and the 15th.
Register here with MindsPay and get a $3 bonus>>
6. Cashback Research – $60 per survey
You earn cash in exchange for your opinion. A free service that puts extra cash in your pocket.
Cashback Research is available for those in the US and the UK.
This is also a high paying survey site with a potential of earning up to $60 per survey. You earn cash via PayPal and will receive money in your hands 2 weeks from when you request to withdraw.
 Join Cashback Research here for a $5 bonus>>
7. Swagbucks
One of the most convenient ways to make money is with Swagbucks. Because you earn money for doing nothing, and I am being serious. From watching videos to browsing the internet, these are all little tasks that pay you.
Let's say you get on the internet to search a pizza or a pasta recipe. Instead of heading to Google or Yahoo, if you choose to use the Swagbucks website to perform your search, you earn money.
Yes! You earn money to search the web.

Once you sign up for free with Swagbucks, you start earning points called SB points.
1000 SB points = $10
There are many more ways to earn these Swagbucks points, apart from using the internet.
You can shop online with Amazon, Target, Walmart, Groupon and 1,500 other retailers using Swagbucks and earn SB points.
Also, have the option to answer surveys
Watch videos or playing games.
You can even earn SB for trying out free samples.
They also have a mobile app so you can earn money on the go and don't need to be plugged to a desktop.
You can redeem your SB points with gift cards or earn PayPal cash.
Join Swagbucks and get a $5 bonus here.>>
8. Inbox Dollars
Founded in the year 2000, Inbox Dollars pays cash to millions of members in the US that are currently taking online surveys – up to $60 million paid as of 2018.
They are also available to those living in the UK as Inbox Pounds.
One unique feature about Inbox Dollars is that it gives you the option to get paid to read emails. Sure surveys can make you more money than reading emails, but it still works out to be an additional income stream.
The maximum you can get with Inbox Dollars is $20-$30 a day in cash with surveys.
Join Inbox Dollars for a $5 bonus here – if you are in the US
Sign up with Inbox Pounds here for a £1 bonus if you live in the UK.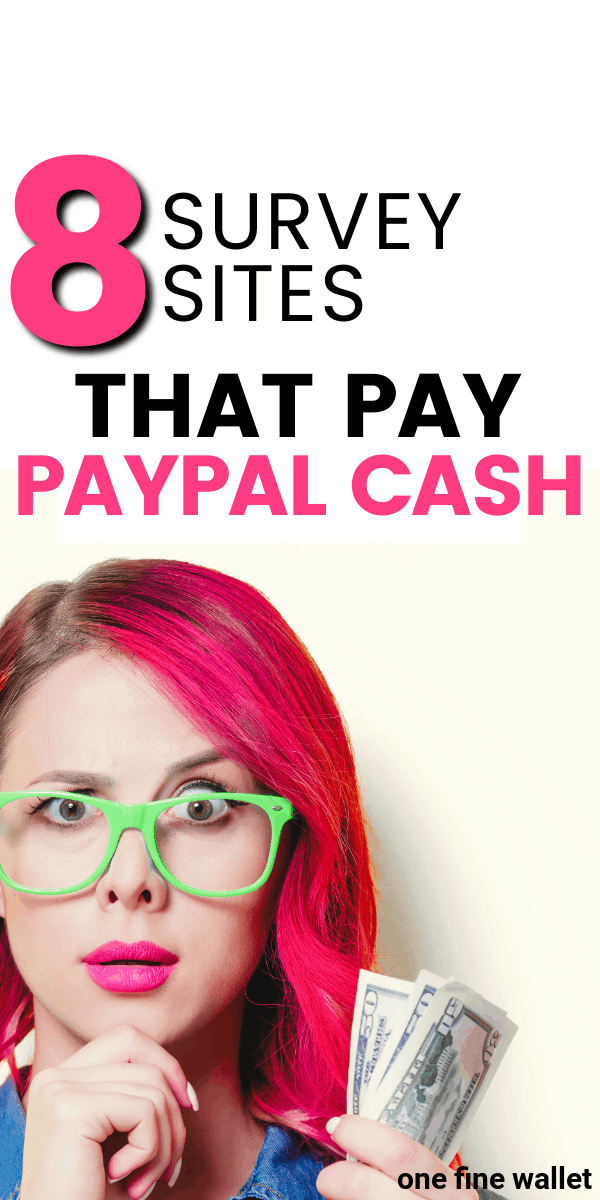 $100 per survey