*This post may contain affiliate links. Please read the full disclosure here. 
Online courses for work from home jobs
Online jobs and freelancing have surged in popularity over recent years, and this growth shows no signs of stopping.
One estimate suggests that over 36 million Americans could work remotely by 2025.
As technology advances, people enjoy the freedom of choosing their own hours and being their own boss.
Did you know that even if you've never worked online before, there are many career courses online where you can earn you $50+ per hour?
Keep reading to find some of the best courses for online jobs that pay well.
10 Courses for Online Jobs (Includes Free Taster Lessons)
1. Online Bookkeeping courses
Entrepreneur named bookkeeping one of the most profitable online jobs. With minimal start-up costs and an average wage of up to $60 per hour, virtual bookkeeping is an excellent option if you're searching for a sustainable career online.
No matter how the economy performs, businesses still need someone to keep track of their accounts.
But don't confuse a bookkeeper with an accountant – the two roles are very different.
Online bookkeeping jobs do not require a degree unlike accounting jobs.
As a bookkeeper, you'll be looking to create and update financial records, along with keeping track of the daily credits and debits of the business.
Bookkeeping is one if the best jobs for working at home online – it pays wells and is fully flexible.
Course for Online Bookkeeping Jobs:
If you are ready to enter this industry with little to no experience you can do so with Ben Robinson's online bookkeeper training.
It's a fully self paced online course that you can complete in your own time. Get an inside look into the course with our Bookkeepers review.
Ben has also provides this free 3-class video workshop, for you to get a first-hand look into the course and bookkeeping as a career.
2. Online Proofreading Course
Freelancing as a proofreader requires you to carefully examine pieces of text for any spelling or grammar errors while ensuring the writing style is clear and accessible to readers.
If you have an excellent grasp of the English language, and good spelling and grammar skills, then proofreading could be the job.
Before you begin, you need to read an array of material written in different styles for different audiences.
This broad knowledge and subject variety will enable you to proofread for various clients and know what you are looking for in the text.
Initially, you may have to offer your services voluntarily or at a lower rate to get experience with clients and some positive feedback for your profile.
As your skills and experience increase, consider setting up your website to showcase what you can do.
Course for Online Proofreading Jobs: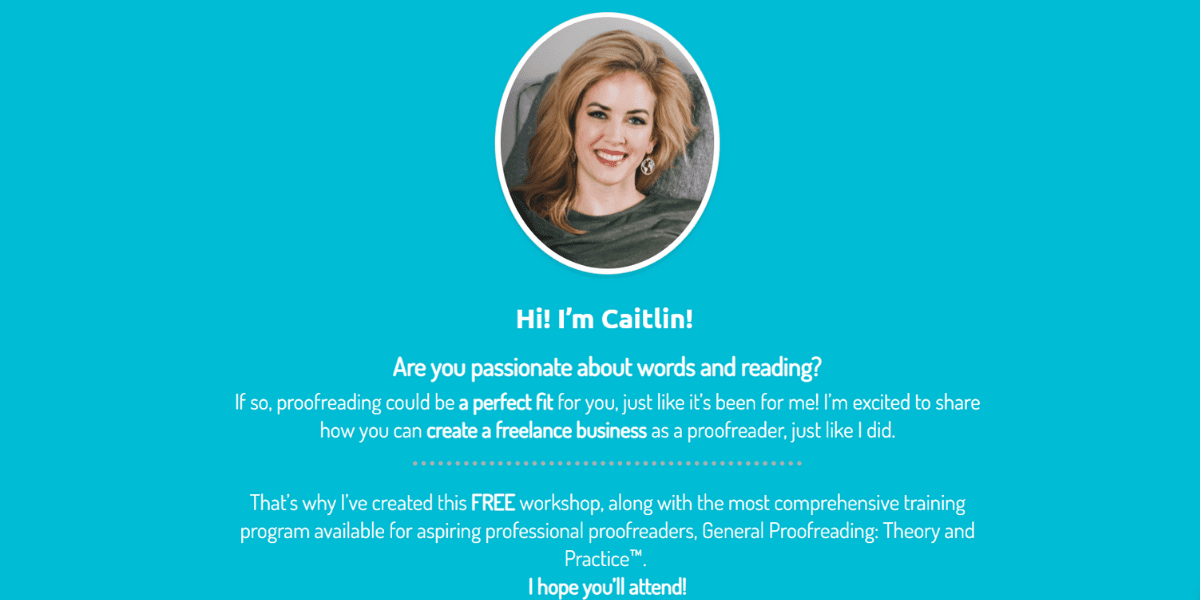 A popular online course for proofreading jobs is Caitlin Pyle's Proofread Anywhere.
She has over 15,000 students that have completed her online course to go on and start their own online proofreading business.
For those unsure about this career, Caitlin has created this free video workshop to see if this job is the right fit for you.
3. Freelance Writing
A freelance writer creates articles, ad copy, and other forms of content via contracted work rather than acquiring a full-time position at a writing company.
As a freelance writer, you'll need to have a good grasp of the English language and create content that is educating and engaging for its intended audience.
Becoming a freelance writer can seem like a daunting task, but it's possible to earn a side hustle, a full-time wage, and everything in between from this online career.
Websites such as Upwork or Freelancer offer daily job postings for freelance writers, while many websites accept submissions through their contact pages.
Course for Online Writing Jobs: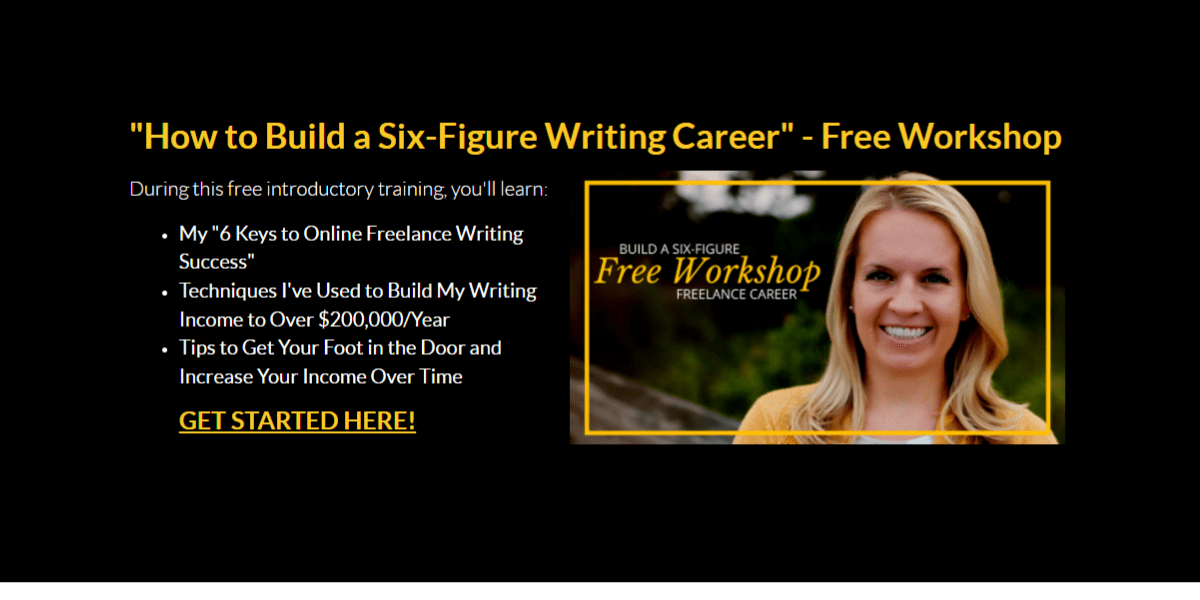 For those who are looking to increase their earnings as a freelance writer, Holly Johnson who earns over $200,000 a year shares six strategies to you increase your income. Here is her free online video workshop.
4. Virtual Assistant
A virtual assistant carries out all the tasks of a traditional PA, such as administration, appointment scheduling, making travel arrangements, and managing accounts.
The difference with virtual assistants is that they work remotely.
To find virtual assistant jobs, you'll need to compose a resume that highlights your best skills. Do you have good communication skills? Are you an organized person with excellent time management capabilities?
Consider what a client will want in an assistant and how your skills fit that role.
There are many services you can offer as a virtual assistant:
Email management
Appointment scheduling
Provide customer service by email or live chat
Content creation
Web and graphic designing
Photo editing
Online business management
Social media management and more.
Once you've highlighted your skills, you can begin applying for jobs by searching online for "virtual assistant jobs" or by going through an agency such as Upwork.
Course for Online Virtual Assistant Jobs: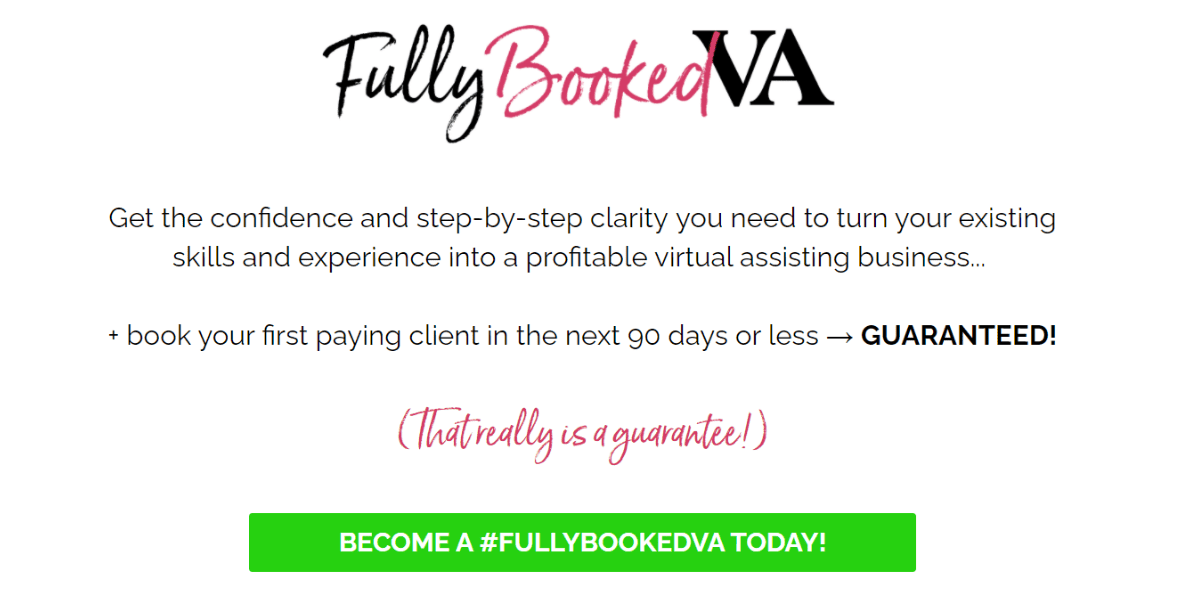 One of the best online courses for a virtual assistant career is Gina Horkey's Fully Booked VA.
5. Pinterest Virtual Assistant
If you have an interest in Pinterest, this could be one of the perfect online jobs.
A Pinterest Virtual Assistant helps its clients manage and grow their presence on the online platform.
With more than 431 million active users this is a huge platform that you can monetize.
---
Get $5 for signing up with Swagbucks:
Make extra money by browsing the web, watching videos, playing online games and testing new products - clothing, food, cosmetics and more! Its free to join. Sign up for your chance to
get a $5 Swagbucks bonus.
---
Pinterest VA rates start around $15 per hour, but you can quickly grow to an average of $30 to $50 with skills and experience under your belt.
If this sounds like a career for you, make sure you brush up your Pinterest skills by taking online courses and spending lots of time on the platform to know how to give business owners a presence and increase their audience.
Online Course for a Pinterest Virtual Assistant Career: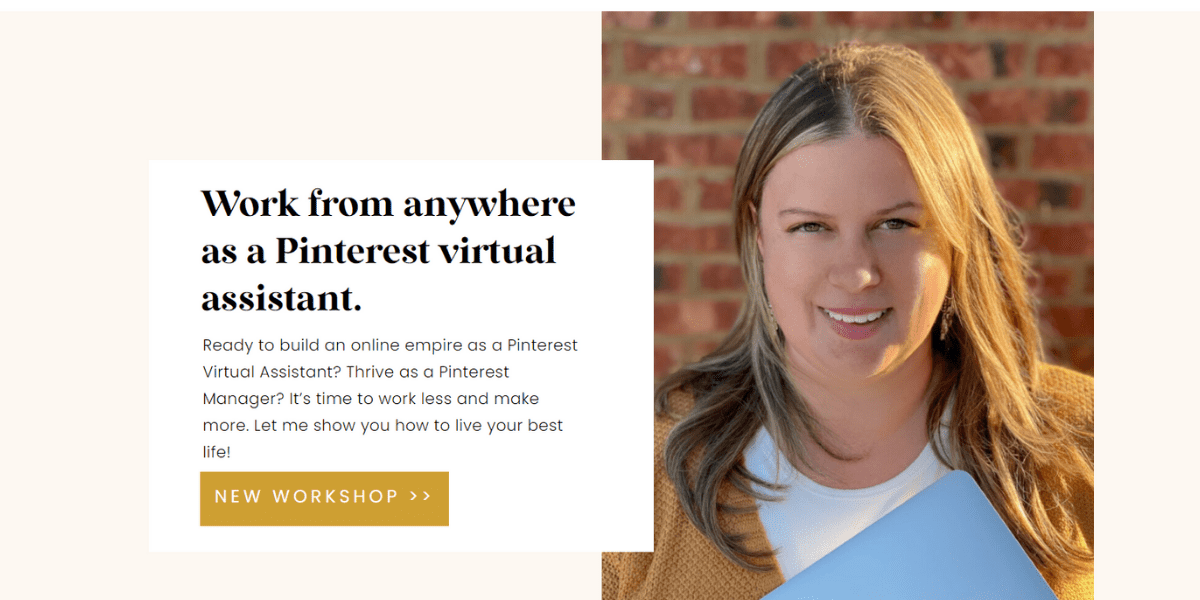 Kristin Larsen offers this Pinterest VA course that you can take online to start your own Pinterest VA business.
6. Transcription
Transcription takes an audio or video file and converts the conversation into text.
While it may sound like an easy task, there's much more to being a transcriptionist than rewriting an already composed speech.
To be successful in this role, you'll need excellent focus and strong language skills.
You'll also need top-notch listening skills to accurately capture each spoken word, and convert it into a seamless document.
The average pay is $16.33, though this can increase to $25+ with proficiency.
And there are many different types of transcription jobs available, from courtroom files to TV shows.
When you're starting, websites like Rev allow you to gain experience across different niches in the industry to see which fits your skills. In addition, they provide a style guide to help you meet clients' professional needs.
Online Course for Transcription Jobs:
Check out our full post on where to find transcription jobs as a beginner, along with one of the best online transcription courses that you can take from home.
7. Voice Acting
Do you enjoy doing impressions or creating different characters with your voice?
If so, voice acting could be the career for you.
Voice acting is different from regular acting as it requires the same emotion and clarity of a stage performance, but only using the medium of your voice.
This is not something you can just decide to do one day – it takes real patience, tenacity, and hard work.
You'll need to invest in acting classes and learn specific voice acting skills such as breathing and articulation.
Once you're confident that you have enough to offer, record a demo and send it to potential clients.
The key with voice acting is to practice every day and continue to expand your range.
Online Course for Voice Over Jobs: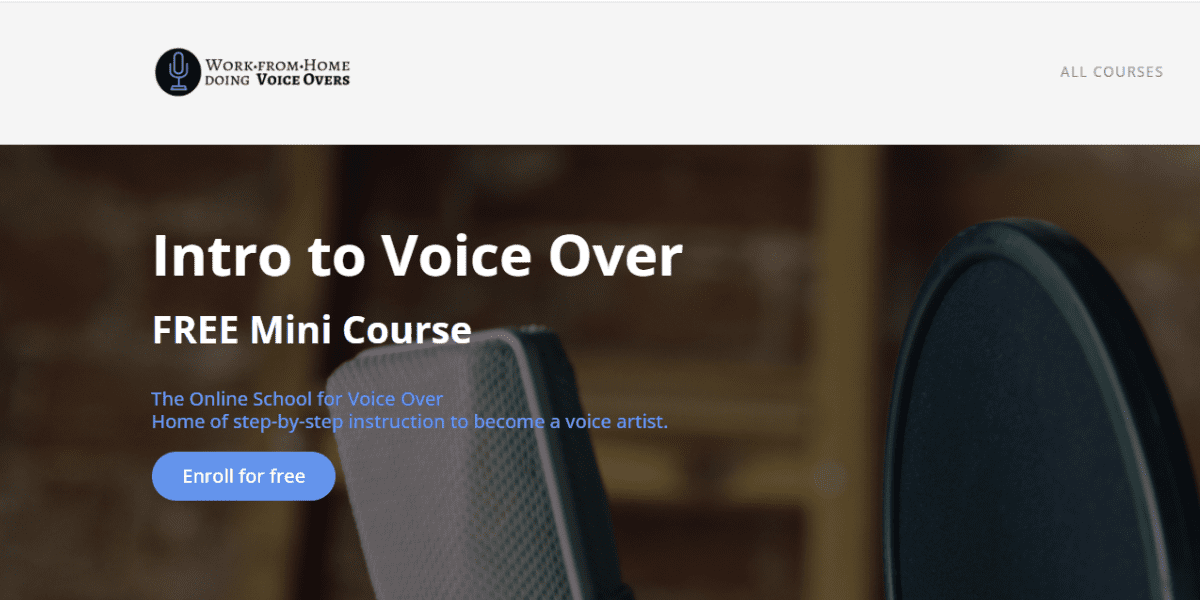 The Online School For Voice Over provides step by step instructions for you to become a voice over artist and work from home.
8. Sell Stickers Online
A fun and creative way to make money online is by selling stickers.
You can learn how to make planner stickers at home and sell it on an online marketplace.
With the growth of planners and journals there's definitely an audience that is looking for custom-made stickers.
Online Sticker Making Course:
The Sticker Plan, created by Mim Jenkinson is one of the best sticker making course for beginners. You can take a look at her course here.
Mim also offers this free online masterclass for those unsure if sticker making is the right fit for you.
9. Sell Digital Stickers on Etsy
If you like the idea of selling stickers, but not the physical ones – here's another option.
You can sell digital stickers instead. This involves creating online stickers that are sold as digital files.
There is no need to package or ship anything. Everything is done online!
Once you create and upload your digital stickers to your Etsy store, customers can buy as many as they want and you will never run out of stock – because they are all digital downloads.
Online Digital Stickers course: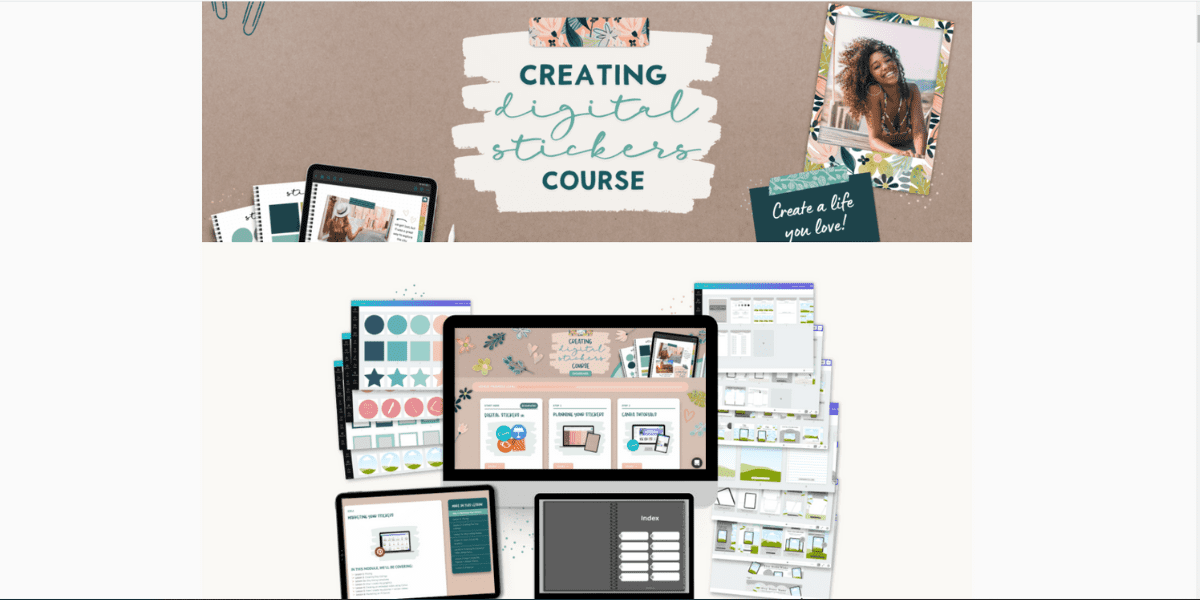 Michelle Simpkin made over $7,o00 in six months selling digital stickers on her Etsy store. She created this step-by-step online training for beginners and non-artists who are looking to do the same.
10. Amazon FBA
Fulfillment by Amazon or Amazon FBA is a service run that allows small businesses to grow by enabling them to access Amazon's logistics network.
This process allows you to scour the internet for profitable products, which you can market to your customers without worrying about fulfilling the orders.
Before you begin, you need to understand Amazon's fees for this service and be able to incorporate them into your business plan.
Once you're happy, select your products and start marketing them to customers.
Amazon FBA is an excellent option for small business owners and e-commerce stores to free up your time and space while providing an effortless shipping process for your customers.
Online Course to Start an Amazon FBA business:
Here is a step-by-step online training to make money reselling on Amazon FBA.
Final Thoughts on Courses for Online Jobs
Gone are the days of the nine to five slog; now is the time of the online freelancer.
Not only does this work provide freedom and flexibility to your life, but you can do it from anywhere at any time.
There are even digital visas available to remote workers from over 20 countries!
To succeed in online jobs, you need to identify your skills and choose the best-suited career. With motivation and determination, these flexible online job courses will help you land a lucrative work from home career.
With hard work and perseverance, you can achieve anything!