*This post may contain affiliate links. Please read the full disclosure here. 
Delivery Driving Jobs Near Me
A delivery drivers job can be considered as a flexible way to make extra cash on the side.
You can choose to work as little or as many hours as you like. Whether it's only working over the weekends, early in the morning or late at night.
This is also considered a good source of income if you are looking for a side job on top of your full-time work.
These jobs are not limited to parcel delivery jobs or courier jobs. You can also deliver food, groceries or even pets!
Yes, I've included one on the list below that allows pets to be delivered to customers.
Food delivery can be the most flexible stay-at-home job, as you can choose your own hours and work around your location radius.
If you are ready to take on a job as a delivery driver, check out the following job sites that you can apply.
Amazon delivery Jobs
This is nothing but Amazon Prime delivery jobs which are parcel delivery jobs using your own car. You will need to a vehicle, a smartphone and be 21 years and over to apply.
How it works:
You will first choose any delivery "blocks" available which usually ranges between 1-4 hours. These blocks are your work schedule.
Once you choose your blocks, head to the delivery station near your area and pick up the parcels to deliver. You can pick your blocks on the same day or a week in advance.
Currently, they only accept four-door cars or vans to be used. You will have access to an app that shows you pick up opportunities.
How much do Amazon delivery drivers make?
Their website states that they have an earning potential of $18-$25 an hour.
---
Driving Apps to Make Money
Food Delivery Jobs Near Me
One of the main reasons food delivery jobs are preferred is because it can be done by anyone. Whether you are a parent, a college student or a professional looking for extra cash, this is the perfect side hustle because of its flexibility.
1. POSTMATES
Postmates is very popular right now because you don't need a car to delivery – you can just use your bike.
These are perfect part time delivery jobs where you courier groceries, food or general items from retailers to customers.
Sign up by creating an account with your email address and password.
You will then be asked to fill out more profile details including which city you want to deliver. This is then followed by them requesting you to proceed with a background check.
Once you are verified you can begin the job.
If there is ever a concern during your deliveries you can raise the issue via their mobile app.
How much will you earn?
Indeed estimates you earn an average of $24.97/hr as a Postmates delivery driver, but many go on to earn up to $27 an hour.
You earn an amount for each pick-up and drop-off, time spent on waiting at pick up location, per-mile rate for the distance between pick-up and drop-off points, and 100% tips. Pay rate varies for different states, you can check out the rates in your states on signing up.
Payments are made weekly by direct deposit.
How to get started?
Sign up with your email to Postmates here.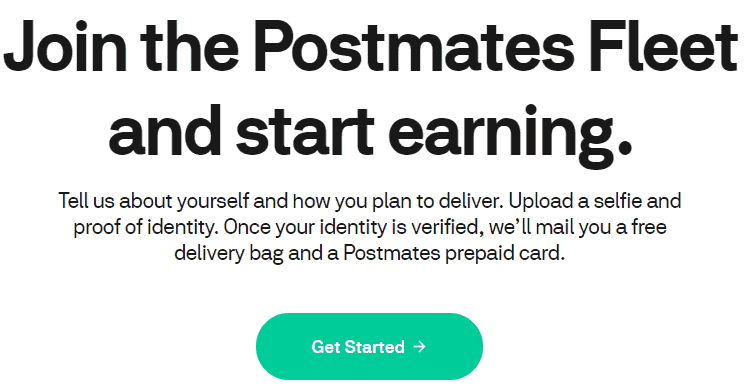 2. DOORDASH
Another sought after part-time food delivery job is with DoorDash.
The basic minimum to be a Dasher (delivery driver), is similar to most of the other delivery driver jobs.
Be 18 years and over
Have a valid drivers license
Own a smartphone to handle deliveries
Sign Up Process:
Complete profile on the DoorDash sign-up page
Agree to a background check
You can request for an activation kit to be mailed to you
On being accepted, your account will be activated and you are ready to start delivering
Getting Paid:
According to their website, for every delivery you make you earn at least $1 plus 100% customer tip, but DoorDash will make sure that your total earnings (including tips) are never less than the amount stated before accepting the delivery.
You earn weekly by a direct deposit to your chosen bank account.
Alternatively, you can choose their Fast Pay system for a fee of $1.99 to cash out daily.
How to get started?
Ready to give this a try? Sign up to join DoorDash
3. UBER EATS
Uber Eats is a food delivery job site that is an extension of the hugely popular transportation company, Uber.
---
Make extra money by browsing the web, watching videos, playing online games and testing new products - clothing, food, cosmetics and more! Its free to join. Sign up for your chance to
get a $5 Swagbucks bonus.
---
With Uber Eats, food delivery can be made with your car, bike, scooter or even choose to walk, but these requirements vary by location.
Requirements:
You need to be 18 years and over for a bike and 19 years and over for a scooter delivery.
As for a car, it is required to have a drivers licence with at least one year of experience, and vehicle insurance.
How to begin:
Sign up to be a delivery driver with Uber Eats.
Upload required documents as part of the application process.
Once you have been accepted you can begin to take on deliveries.
Getting Paid:
They pay via Instant Pay, which means you can cashout immediately – up to 5 times a day. Instant Pay connects to your debit card and you can begin using it once you complete your first trip.
How to get started?
Sign up with Uber Eats here.
Other food delivery jobs available are Grubhub and Caviar.
---
Grocery Delivery Jobs
4. INSTACART
At Instacart you get paid for doing someone else's grocery shopping. You can choose to only shop in-store called an In-Store Shopper, or shop and delivery called a Full-Service Shopper.
Salary:
In-Store shoppers get paid by the hour as listed on their contract on signing up. They can choose their hours of work and work up to 29 hours a week.
Full-Service shoppers have more flexibility as they are independent contractors.
This means you can choose how much or how little you want to work as there are no restrictions on the hours you work per week. As an added benefit you also earn 100% of the tips made.
Eligibility to apply:
18 years+
Be eligible to work in the U.S. or Canada
Own a smartphone with Android 5.0 or later, iOS 9 or later
A registered vehicle with vehicle insurance
Ability to lift over 30 pounds
Additional Bonus:
As an Instacart shopper, if you have completed at least 40 hours of service, you can refer friends to join and earn referral bonuses too.
Salary:
According to Indeed the average salary for deliveries $35,092 per year.
4. SHIPT
A very similar grocery delivery job like Instacart.
Requirements to join:
18 years and over.
Valid U.S. driver's license and insurance.
A vehicle that's newer than 1997
Use insulated cooler bags to deliver.
Ability to lift 40 pounds.
iPhone (iOS 10 or newer) or Android (5.1 or newer) smartphone.
Salary:
Their website claims you can earn up to $22 an hour, and you get paid weekly.
Sign up with Shipt here.
5. Favor
Another delivery job that more of a "running errands" type of job is Favor.
You get to deliver food, groceries or even dry cleaning. You are more of a personal assistant that a delivery driver.
Rate of pay according to their website is between $10 to $18 an hour and you get to keep 100% of your tips.
Age requirements are 18 years and over with a clean driving record and have a reliable vehicle for deliveries.
6. SAUCEY
As a driver at Saucey, you help deliver alcoholic drinks and beverages. Currently, only open to a handful of cities in the US – you can check the locations here.
Their website claims that drivers can earn over $700/week.
---
Package Delivery Jobs
If you are not keen on delivering hot food, then package delivery jobs might suit you.
A package delivery service that allows you to book your hours a week in advance. They require you to have at least 1 year's driving experience, own a car not older than 1998 and be able to carry over 50 pounds.
You will need to pass a background check to be accepted.
Their website claims you can earn up to $22/hr.
At Roadies, you get paid from $8 to $50 for local deliveries and up to $650 for longer drives and oversized items – and, it's not just for packages!
You also have the opportunity to deliver pets on some occasions – so if you are an animal lover you will enjoy this hustle.
You help customers in moving, hauling and delivery. Jobs can range from small parcels to large deliveries involving home improvement. But not to worry, for the big deliveries, you get assistance called "helpers".
Go Share pays out weekly through direct deposit
---
Pizza Delivery Jobs
Large companies also hire their own delivery drivers.
It's good to keep an eye on Indeed and websites of other respective fast-food pizza chains. As a pizza delivery driver, you can average $8 an hour. This can be a good side job for college students looking to earn extra cash over the weekend.
Snag a Job is another online job directory to find pizza delivery driver jobs.
---
FedEx Delivery Jobs
Check out FedEx driver jobs and you will notice most of them pay you around $16-$19 an hour.
But as a courier driver, you will need to lift heavy packages, so a word of caution this job might be physically demanding.
But if this something you are ready for, then you will find quite a few openings posted on the FedEx website.
Do check for full details in the job description section.
---
Newspaper Delivery Jobs
This is perfect for early riser looking to make extra money on the side.
Most newspaper delivery jobs require you to start around 2 am onwards.
Role:
The job usually involves picking up your deliveries
Loading them on to your vehicle
Driving to the required location and delivering.
Job directories like Indeed regularly post openings for newspaper delivery jobs and is a good place to keep an eye out for.
Salary:
An average salary of a newspaper delivery driver is $27,949 as estimated by Glassdoor.
---
Final thoughts on Delivery Jobs:
One of the most flexible side jobs without investment is that of a delivery driver. You can choose your own hours of work and even decide to only work on weekends or just a couple of hours a day.
Of those listed above, two of the most popular ones by demand are DoorDash and Postmates.
They are well paying and reliable delivery driver jobs for quick deliveries around your area.
Delivery Jobs near me