*This post may contain affiliate links. Please read the full disclosure here. 
Are you ready to start making money from home?
How I Make Money At Home
If you are someone that is not happy at your regular day job and is looking for ideas to make money from home, this list of work-at-home jobs might be helpful in your search.
Finding the right job is always tricky.
I started my online career as a stay-at-home mom in search of flexible online jobs that can replace a full-time income. I found blogging to be a creative and profitable side hustle that can be run from home with just a laptop!
It look a year to start seeing some results from my blog, but from there on I have been making above $4,000 a month consistently. This is from advertising income and affiliate income on my site.
Advertising income – money earned from ads placed within the blog
Affiliate income – when someone buys a product, like a course or an e-book – bloggers earn a percentage of the total sale as commission. This commission can range from 2%-50%.
Take a look at this post to learn how you can start a blog and make money from it. While blogging involves writing digital content, there is a ton of research and editing involved to make it successful. But yes – it is possible!
In today's post we are going to cover 16 other creative ways to make money from home.
This will help you make a decision on the right job for you.
There are so many factors that come into play – from choosing the right career, salary/benefits and flexibility.
Taking all this into consideration, let's check out how to make money from home part time or on a full time basis.
How to Start Making Money from Home?
The best way to begin, is to figure out your interests and passion to get into the right career.
For me, I enjoyed writing and I had a choice of becoming a freelance writer or a blogger – and I chose the latter.
You might have a certain skillset or a special interest, a hobby that you didn't realize you could monetize – use your current job or home life situation to be an inspiration.
Here's some help in decision making:
If you enjoy cooking – you can become a food photographer, food blogger, or even write and sell your own cookbook.
For finance enthusiasts – become a bookkeeper, finance writer/blogger.
Grammar nerds – try proofreading jobs by correcting grammatical errors in blogs and online content. You can earn up to $60,000/year with this one (more on this below).
Enjoy being a mom? Start a mom blog and write on topics like breastfeeding, baby food, or parenting.
What to Make at Home for Money?
While there are a long list of ways to begin earning from home with online jobs, you could also consider starting your own home based business.
This does not mean that you need to invest thousands of dollars to start a new business.
Here are some flexible low cost business ideas to consider.
Start a cake business
How to Make Money from Home
Let us now take a look at these 16 different ways to start making money from home.
1. Make Money with Research from home – $140/hr
Wondering how to make money online for free? – No degree and one that almost anyone can participate?
Respondent is a site where you help researchers by answering questions or completing surveys. You will help answer questions on a particular research topic either in the form of a video call or an online survey.
There are research topics available for almost anyone, whether you are a stay-at-home mom, student or professional.
Signing up is free and you can do so using your Facebook or LinkedIn login details (for verification). Most of the studies are worth $100 or more an hour and can be done remotely.
Read this review article on Respondent for more details.
Here are some other easy ways to make money from home:
Vindale Research – This is another research site that pays for answering research-based survey questions. This is also well paying and can go as high as $50 a survey
Pinecone Research – A research site that pays PayPal cash. The best part about Pinecone Research is that you get paid a flat rate of $3 a survey.
2. Easy Ways to Make Money from Home
Side hustles are good for those looking to do a variety of little tasks to accumulate some cash. Here are some ideas that you can do using your phone, that requires very little effort from your end.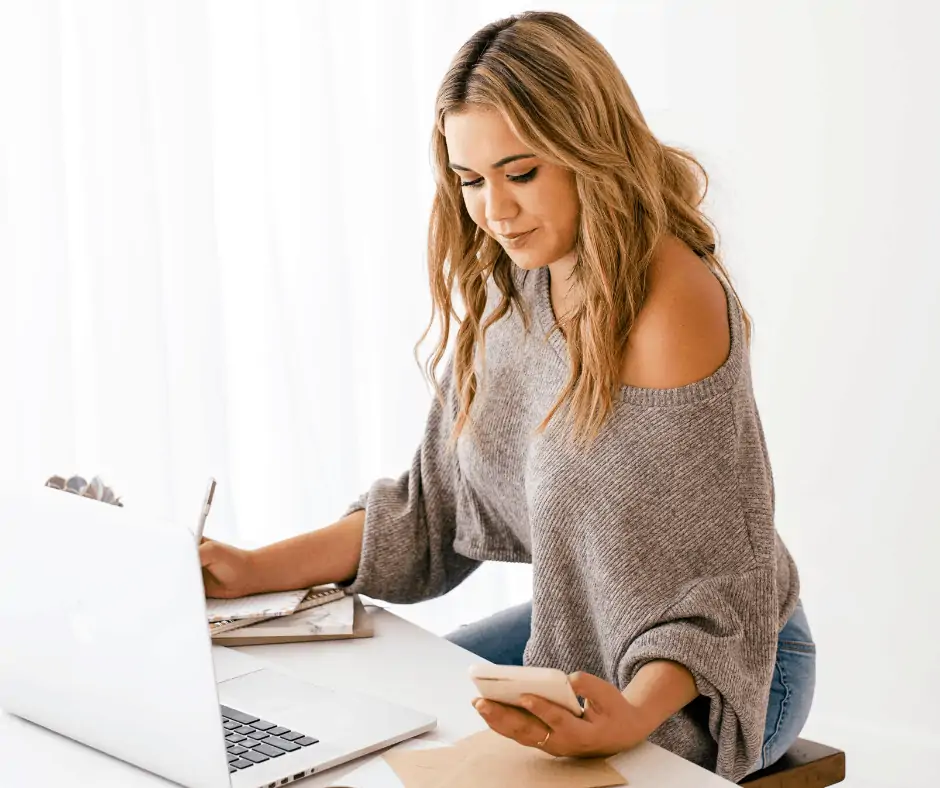 All of these side hustles listed below pay you cash and not reward points or gift cards.
Survey Junkie – They have over 10 million members that are making from home with surveys.
Swagbucks – This cashback site does more than give you money back for your shopping. You can also earn for doing internet searches, and watching cooking shows and other videos.
Trim – This is another automated app that analyses your credit/debit account and cancels unnecessary subscriptions or negotiates lower rates to reduce your bills. Trim can also negotiate your Comcast bill or find the best car insurance – users have saved up to $400 using Trim.
3. Proofreading Jobs from Home
Proofreading is correcting grammatical errors in ebooks, blogs and other online content.
If you have the knack for correcting mistakes, this job can pay an average of $40,000 a year and can go up to $60k.
Here are over 25 proofreading jobs to apply even as a beginner.
For those wondering how to become a proofreader from home, Caitlin Pyle has a free and very popular proofreading workshop that is over 76 minutes long and has helped students make thousands from home. Here is one such student (& SAHM) that earns as a proofreader from home with three kids.
4. Make Money from Home as a Virtual Bookkeeper
To become a bookkeeper from home you do not require an accounting or an associated degree to get started.
There are online training programs like the popular Bookkeeper Launch, that have trained moms and dads to begin a bookkeeping business from home, with many earning between $3,000 to $10,000 in recurring income each month.
Considered one of the most well-paying work from home jobs, an online bookkeeper has the flexibility to work from anywhere while choosing their own schedule.
If you are someone that has an interest in organising financial statements for a business, this is a job to consider.
5. Make More Money Product Testing
Product testing is a genuine way to make money from home.
As the name suggests, you get paid to test products sent to your home. Sure you are not going to make thousands of dollars doing this, but it is certainly an easy way to make some extra cash.
---
Make extra money by browsing the web, watching videos, playing online games and testing new products - clothing, food, cosmetics and more! Its free to join. Sign up for your chance to
get a $5 Swagbucks bonus.
---
It's a convenient way to make money from home, with competitive pay and other perks.
While some of these brands will send you the products home, others will provide you with online surveys for products they are going to create. Here are some companies that offer product testing opportunities.
6. Data Entry Jobs
This job is the best answer for beginners that want to make money online for free and without experience.
Data entry jobs require you to listen to a pre-recorded audio or video and type what you hear.
Apart from typing accurately, you will also need to be a fast typist and be well versed with Word and Excel or Google equivalent.
Beginners can find data entry jobs on Fiverr and Upwork.
Here are 11 other data entry jobs to apply.
7. Extra Income Testing Websites
Some website owners pay testers to check their websites for feedback on how to improve it. From improving brand colours, font size, and just the overall feel of their site.
They need you to pick defects in their website, so they can make the needed changes and improve readers experience.
Here are some websites that pay you for this.
User Testing
Enroll
TryMyUI
UserFeel
Testing Time
8. Become a Six-Figure Freelance Writer
There is always a demand for written content whether its providing copywriting services, writing blog posts, ebooks, white papers, or online courses.
There are also online magazines that can pay more than $250 per article that's published. This is a good way to make quick money.
Holly Johnson is a six-figure freelancer who teaches new and advanced writers on how to make a full-time income from home – writing. She shares 6 secrets here on how she grew her income to $200,000 a year.
9. Make Money on the Side as a Virtual Assistant
Are you highly organised and have some administrative experience? Then becoming a virtual assistant might be just the job for you.
You find your own ideal clients to work with, set your own hours and help entrepreneurs grow their businesses with the help of your skills.
As you take on more clients you can end up making up to $5,000 per month and can even start your own virtual assistant agency.
Advance Career options:
Virtual assistants can move on to become a real estate VA or a Pinterest VA and increase their chances of earning more.
*Download this free list of 275+ services to offer as a virtual assistant.
Related post:
Earn Rewards Scanning your Shopping Receipt
10. Audiobook Narrator
As a voice-over artist, you can work from home lending your voice for podcasts, store announcements, audiobook narration and more.
As a beginner, you can find work on Fiverr which does pay less, but as you gain experience, voice artists have the potential to earn up to $5,000 a month.
Here are a few other places to apply as a voice artist.
11. Online Translator
There are a few online translation jobs available for freelancers looking to work a few hours a day. Rev and Unbabel are two companies that offer translation work from home. Rev also offers to pay you to caption videos from home.
12. Drive and Earn
DoorDash is one of the most flexible food delivery jobs available.
You will need to be 18 years and over, own a vehicle and a smartphone, have valid insurance and pass a background check.
As a dasher – that's what they call their delivery drivers, you get paid weekly.
Uber Eats is another food delivery job to make money.
The flexibility is good as you can choose whether you want to deliver in the mornings, evenings or only on the weekends. You don't need to have a car, as you can also use your scooter or bike to deliver food.
13. Illustrator
Do you have a creative eye for design? Are you great at drawing? If yes, you can start to make money as a freelance illustrator.
As an illustrator, you get to convert paper drawings into digital art. Read how Angela makes $4,000/month as an illustrator.
With this skill, you can offer a number of online services such as designing logos, business cards, social media banners and posts, ebook covers, clipart, the list goes on and sell them on sites like Creative Market or on your own digital e-commerce store.
14. Earn Extra Money Blogging
I'm sure you have a number of favourite blogs that you love to read but how about creating your own?
With all the ways to make money from home listed above, it's important to have a blog attached to them to get the news out about your products and services.
Other ways you can make money blogging is through paid ads, affiliate marketing, sponsored posts and through your email subscribers.
There are many bloggers who make a full-time income such as a regular $1000 per month to even six figures.
Steps to starting your own blog.
15. Social Media Manager
If you always find yourself on social media commenting, liking and sharing pictures with friends and family why not earn money when on social media instead.
You can learn the skills on how to create, design, write, moderate and schedule content on the various platforms like Facebook, Twitter, Instagram and Pinterest and get paid by offering your social media management services.
This is a very lucrative way to make money at home online as it doesn't take up too much time due to using scheduling tools and it takes the pressure for your client to concentrate on other parts of their business.
If you are considering this route, this online course will teach you how to become a social media manager in less than 2 weeks.
16. Creative Ways to Make Money from Home Online
If you're a more creative person you can always make money online from your hobby. Why not try out one of these money-making ideas?
Sell your art and crafts on Etsy

Buy and sell your upcycled creations

Rent your home or room on Airbnb

Use your photography skills to sell stock photos
Final Thoughts on How to Make Money from Home
Now that you have been given a few ideas on what you can do to start making money from home online why not get started with any of the suggestions that suit you.
Don't forget to share this post with others and make a comment below on how you want to make money from home.
How to Make Money from Home