*This post may contain affiliate links. Please read the full disclosure here. 
Are you wondering how to earn money by playing games? Here are 25 of the best game apps to win real money.
If you like the idea of getting paid to play games, why not make it worth your time with these real money earning games.
These are free online games that pay with PayPal cash or virtual gift cards.
So make sure you have a PayPal account set up, so you can deposit your earnings into it. It's pretty simple to set one up and you will be done in minutes.
Now, let's check out how you can get paid to play games with these legit online games that give free money.
25 Apps to Win Real Money
Before we dive into this post of apps that win real money, do check out our other posts on android money making games and easy ways to make quick money in a day.
Ok, lets begin.
1. Get Paid to Play Games with Swagbucks
Age requirement: 13 years and older
Mode of payment: PayPal and gift cards
Our first entry is a popular one and it's called Swagbucks.
With Swagbucks, you can play free online games to earn money.
It is a great place to register if you want to have lots of different options for making money online to keep yourself from getting bored.
Apart from their online games that pay real money, you can also make money watching videos, daily survey worth up to $35, and searching the internet.
You can even make money on approved purchases by uploading your receipts to Swagbucks.
One of the most rewarding ways to earn with Swagbucks is by participating in their product testing opportunities.
Companies are ready to pay you to test products such as clothes, shoes, gourmet food and more. Swagbucks is free to join, and you can sign up here to start earning.
2. Blackout Bingo – Real Money Game Apps
How would you like to win money playing online games like Bingo?
Blackout Bingo is another app option that is available for IOS and Android where you can play the game that you love and get paid for it.
You've got a few different styles of Bingo that you can play, so that it always stays interesting.
Mode of payment:
Payments can be made through PayPal or in the form of Amazon Gift cards.
Who can join?
This app is free to join and you will need to be 17+ to download the Blackout Bingo app on your device.
Please note: Cash tournaments are not enabled in the following states: AZ, AR, CT, DE, IL, IN, LA, ME, MT, SC, SD, and TN.
3. 21Blitz Game Apps to Win Real Money
Fancy a game of card shark?
If you love cards and are looking for games to win real money, then 21Blitz might well be a good fit for you.
21Blitz is an app that you download for Android or IOS where you can play a unique mix of Black Jack and Solitaire.
Mode of Payment:
While there is a nominal fee required to enter tournaments, you can win in those tournaments and have the cash sent directly to you by means of your PayPal account.
No surveys or videos to watch, with this money making game.
How to join: Join 21 Blitz here.
Please note: Cash tournaments are not enabled in the following states: AZ, AR, CT, DE, IL, IN, LA, ME, MT, SC, SD, and TN.
4. Make Money Playing Games with Dominoes Gold
Dominoes Gold is another game of chance that you can play on your phone to earn real cash rewards.
It's fun, addictive, and always a challenge.
If you want to put your Dominoes skills to the test and see how good you really are, then Dominoes Gold is more than ready to pay you for it!
Mode of Payment:
While the options that pay if you win do require an entry fee, if your Dominoes skills are up to the task then you have your winnings sent straight to PayPal or deposited into your prepaid credit card account.
How to Join: Check out how to download Dominoes Gold here.
Please note: Cash tournaments are not enabled in the following states: AZ, AR, CT, DE, IL, IN, LA, ME, MT, SC, SD, and TN.
---
Get $5 for signing up with Swagbucks:
Make extra money by browsing the web, watching videos, playing online games and testing new products - clothing, food, cosmetics and more! Its free to join. Sign up for your chance to
get a $5 Swagbucks bonus.
---
5. Solitaire Cube – Real Money Game Apps
Care to try a new kind of Solitaire that pays you if you get good at it?
If so, then the Solitaire Cube app for Android and IOS awaits your presence eagerly.
With Solitaire Cube, you get a free bonus when you sign up and make a small deposit to play for cash.
For instance, if you start with a $50 deposit, they'll match it and you can play practice games until you're ready to try out for the more lucrative pro games.
Show off your Solitaire skills in Solitaire Cube – you might just make a pretty penny.
How to Join: Solitaire Cube download here.
Please note: Cash tournaments are not enabled in the following states: AZ, AR, CT, DE, IL, IN, LA, ME, MT, SC, SD, and TN.
6. Gamehag – Get Paid to Play Games
Gamehag allows you to earn 'soulgems' worth 1$ to 3$ for playing games, referring friends, and more.
Payment is made in the form of gift cards, free games, special skins for those games, and in prizes.
You can play these games on either your phone or on your PC, whichever you prefer, and there are over 100 to choose from
If gaming is your thing, then Gamehag if a great way to earn gift cards to buy things that you like or to support your gaming habit by earning free games!
Please note: Cash tournaments are not enabled in the following states: AZ, AR, CT, DE, IL, IN, LA, ME, MT, SC, SD, and TN.
7. Inbox Dollars – Online Games that Pay Real Money
Inbox Dollars is another popular platform that offer real money games.
Aside from cash back that you can get from shopping online and coupon rewards, Inbox Dollars is willing to pay you for your time taking surveys, watching videos, and playing fun games to pass the time.
Games include Candy Jam, Mah-jong Solitaire, Monkey Bubble Shooter.
You've got a little variety to help you stay entertained while you are earning cash for a fun activity.
Inbox Dollars offers a lot of payment options, too.
Payments are available through PayPal, as well as e-gift cards from large providers such as Amazon.
You can also get a check mailed to you the old-fashioned way! There's a lot of ways to get paid, you've just got to motivate yourself, register, and get started earning!
8. Mist Play – A Real Money Game App
Mistplay is a game app available for iOS and Android users.
By joining up, you'll be given recommendations for games which you may download to your phone and either play or even socialize with your friends – all paid, of course.
The caveat, however, is that payment will be in gift cards only.
If you like gift cards and games, however, this might just be a perfect fit for you.
Challenge your friends on their leaderboard rankings, chat, or game solo – the important part is that you play and then you'll get paid through Mist Play.
9. KashKick – Real Money Game App
KashKick is all about answering surveys, playing games and paid offers.
They are fairly competitive on what they'll pay, with surveys earning you 0.75 cents up to $2.00 and paid offers netting you even more!
It's app-based, so you need to download it for IOS or Android to get started and payment is made through PayPal, with a $10 minimum required.
10. MyPoints
MyPoints not only allows you to play free games for money online, but it's also lets you earn travel miles!
With MyPoints, you also have the option to watch videos or to take surveys, and they have a goodly selection of games to keep you entertained while paying you for your time.
If you like Casino games, then MyPoints might quickly become a favorite of yours, as they have games such as Wheel of Fortune, slot machines, and more – games that most casino aficionados play on their phones anyway!
Each point that you earn is worth a penny, which is fairly standard, and payment is available in the form of travel miles, PayPal, Gift certificates, and more!
Check it out, especially if you love casino games, and start getting paid for doing what you like!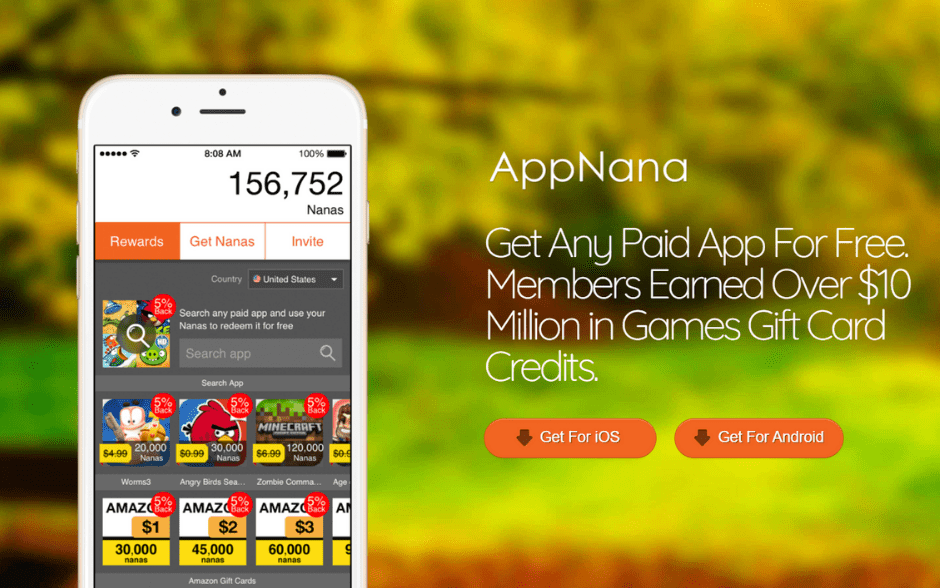 AppNana is an app-based option for making money online – but only for purchases.
PayPal is not an option with AppNana, though you can earn gift cards by downloading games through the AppNana app and playing them.
That said, they do have a lot of games that you can play directly on your phone, just download the AppNana app to get started earning your gift cards!
Cashout is a great way to make a little extra cash for taking surveys, trying out new apps, or simply watching videos online.
All that you need to do to register is to download their app for Android or IOS and then you are ready to get started.
As you earn cash for your activities, you can cash out at any time through PayPal or get your payment in the form of gift cards.
If you have a little free time, Cashout is a great way to make the most of it by getting paid for your time.
13. Cash Crate
Available for IOS and Android, CashCrate lets you play games, take survey, and participate in paid offers online from the most convenient location ever – your phone!
Registering gets you access to the games that you crave and you'll be paid for you time.
Surveys also pay around .50 cents each up to a dollar, and this can add up quickly if you're willing to put in the time.
Cash is paid directly your account, with different pay-speed options, so if you like gaming then CashCrate is worth considering.
If you love Bingo, then Bingo Mania lets you play for cash and they are definitely legit – they've been around since 1996.
Currently they're even offering a free $100 to get started and payouts can be made in the form of electronic transfers for US or Canadian citizens, while players from other countries may use Netellers and Moneybookers.
That free $100 won't be around very long, so be sure to check out Bingo Mania and see what all the fuss is about!
Don't feel like working – well, how about shopping?
Pogo rewards gives you the chance to earn rewards for shopping online for pretty much anything.
Any store and any brand will do, according to the folks at Pogo, and payment is made through Venmo or Paypal.
You can certainly still do surveys if you like with Pogo to earn a little extra, but if you do a lot of shopping online then you can also just earn money back this way. Check it out and see what you think!
The Toluna app for IOS and Android allows you to make money in a number of different ways.
You can take online surveys, refer friends, and even enter contests (or start your own) where cash goes to the winner in the form of cash, gift cards, or sweepstakes entries that you can net you even more cash!
Long surveys usually earn you about $1 each, but they have a wide variety of topics to keep you interested and the contests are a nice touch.
Check out Toluna firsthand to see what you think about it.
Quick Rewards pays you for doing things that you doing already, and that's quite alright by us.
With Quick Rewards you earn money for using shopping coupons, watching videos, taking surveys, or even simply reading emails.
Payment is done quickly within 24 hours of request and comes in the form of gift certificates or cold, hard cash to your PayPal.
Software testers, rejoice!
You've now got a way to always know about new software that has yet to be released, because Feature Points is going to pay you to test it.
You can also take surveys and participate in paid offers, so you've got a lot of options with Feature Points.
Payment is handled through PayPal or paid to a prepaid Visa card.
iRazoo makes online moneymaking both easy and fun.
By joining up, you can play over 50 different games and when you tire of these, you can throw on some videos and continue earning your cash. It's that easy!
Payments are made in the form of gift cards for places like Home Depot and Amazon, or you can turn your points into cash and send it straight to PayPal – it's all up to you!
Other Ways to Make Money Playing Games:
20. Start a Gaming Blog
Aside from apps or surveys, you can make money online by taking advantage of your gaming skills and starting a gaming blog.
Make sure to post the link on social media and get the word around – you'll quickly attract advertisers if you get enough visits!
21. A Gaming YouTube Channel
People love learning about new games, getting tips on how to beat current games, or simply watching people play.
So, why not start your own YouTube channel?
Once you start getting the hits then you can monetize it and make much more than you ever made with surveys!
22. Take Part in Gaming Tournaments
Gaming skills are in demand, believe it or not, and this has got to be the best job ever.
Entering into gaming tournaments can be very lucrative, with winners often earning hundreds of dollars or more.
If you've got the skills, you owe it to yourself to consider this option.
You can get paid and show the other gamers that you deserve a little respect.
23. Become a game tester
Game testers can and do get paid, you just need to put in the time to look for these opportunities and then you can take advantage.
While some apps allow you to do this, companies such as RockStar Games and Blizzard also hire professional game testers all of the time.
Be on the lookout for opportunities and be the only person that you know who can't wait to go to work!
24. Sell gaming gear
If you know games and gear both inside and out, then you've got an untapped opportunity on your hands.
Recommending and selling the best gaming gear can make you a lot of money.
You can create an online store for actual purchases and set up YouTube videos reviewing all of your gear.
Set it up with Drop shipping and you don't even have to carry stock.
Opportunity is where you create it, so if you know all about gaming gear then start telling potential customers what they should buy and why – and make sure that they have a place to do so in the form of your own store!
How Much Can You Earn Money Playing Games Online?
It's hard to say, as it depends on how many games you want to play and the rate of pay.
In addition to making money playing games, you can also consider some of these easy side hustles to increase your chances of earning more each month.
Common FAQ's for Real Money Game Apps
1. Which is the best real money earning game online?
MistPlay, Blackout Bingo, Swagbucks and Kashkick are some of the best ways to earn real money playing games. With Swagbucks, there is more than one way to earn money, making it one of the best rewards sites online.
2. Which real money earning games pay by PayPal?
Here is a full list of over 20 game apps that pay to PayPal.
3. Can you win real money on game apps?
Yes, you can certainly win real money playing games online. So whether you fancy a game of bingo or solitaire, this post has over 25 ways to win real money on game apps.
Now, are you ready to earn money playing games?