*This post may contain affiliate links. Please read the full disclosure here. 
Ways to Turn Visa Gift Cards to Cash
Have you ever wondered if you can deposit a visa gift card into a bank account?
It is possible to cash in visa gift cards, but it may not be as simple as transferring it straight to a bank account. Having said this, these are still convenient ways to transfer a visa gift card to your bank account or PayPal.
If you're sick of visa gift cards weighing your wallet down, convert them to useable money in your bank account.
This article will show you ways to transfer gift card balance to a bank account – if cash is what you need.
Learning how to get cash from a visa gift card is easy, so let's get started!
♦ Get a $10 visa welcome bonus when you shop using MyPoints. Its free to join and you can sign up here.
1. Convert Visa Gift Card to Cash
If you have a Visa gift card taking up space in your wallet, you can convert that money to cash in your PayPal account by CardCash.
CardCash allows you to get cash from a visa gift card. It's a gift card site that allows you to trade in your unused gift cards or buy gift cards at a discounted price.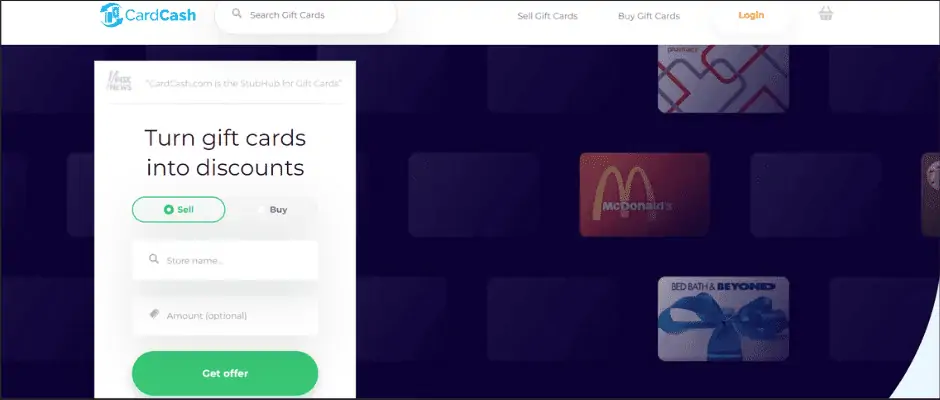 Through CardCash, you can get paid through a check, ACH, or PayPal.
To get cash from a Visa gift card into your PayPal account, simply log into CardCash and get an offer by entering the merchant name and balance on your card.
Given your gift card is exchangeable, you can enter your information and add the card to your PayPal account.
---
2. Transfer to Venmo
Transferring money from a Visa gift card to your Venmo account is also possible.
Create a Venmo profile and then transfer money into your Venmo bank account.
After transferring your money from the Venmo profile into your bank account, the money will be fully accessible.
You can withdraw money from your bank ATM into real cash without incurring a bank ATM service fee.
Transferring money between accounts to Venmo will result in a transaction fee each time, at a minimum of 0.5% but no more than 2.5% of the amount you are transferring.
After the transfer fee, there is no additional withdrawal fee associated with Venmo.
However, there might be an additional fee associated with the ATM if you do not use an ATM associated with your debit card's bank.
---
3. Sell your gift cards on gift card sites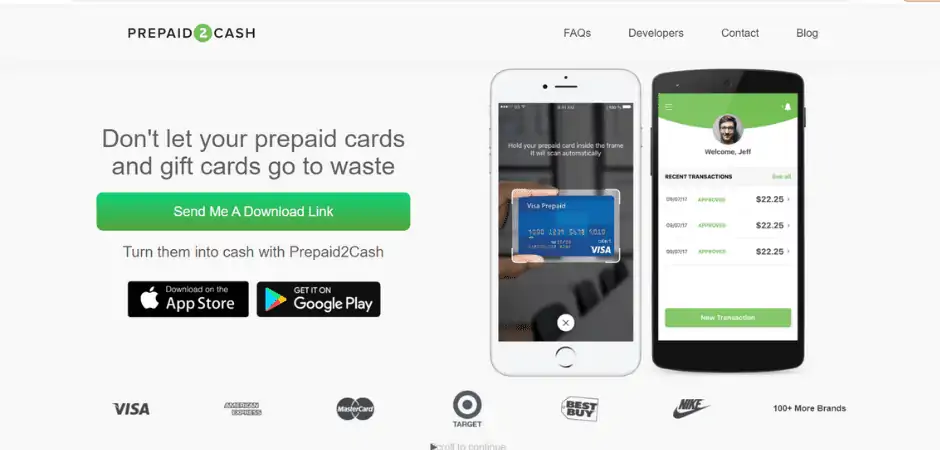 Selling your Visa gift card on a gift card site is a common way to cash in your gift card.
Some of the best ways to turn a visa gift card to cash are with sites like GiftCash and Raise
Prepaid2Cash is another site that will help you turn visa gift card to cash.
You can download the app from the App store or Google Play and exchange visa prepaid cards and gift cards to cash.
These websites convert gift cards into real money so you can transfer them into your bank account and withdraw cash.
Unlike marketplaces, these transactions are direct and trusted.
Selling your gift cards on these sites is a guaranteed way to protect your transaction because of the built-in third-party protection.
You can rely on these websites for secure transactions and safe transfers.
However, gift card sites may charge an additional service fee for these protections, so you will likely use some of your gift card funds to transfer the money.
---
4. Sell Visa Gift Cards Online
Another way to get cash from gift cards is by selling it to private buyers on websites like eBay, Craigslist, and Facebook Marketplace.
These marketplaces have thousands of users ready to buy products.
Whether you are selling your gift card midday or at midnight, someone is ready to buy Visa gift cards.
Plus, transactions on marketplaces transfer directly to your bank account or PayPal.
Online selling is a great way to make money quickly.
There are still a few downfalls to selling gift cards online.
If you want to sell your gift card on one of these marketplaces, establish trust with your buyer and be careful with every purchase.
---
5. Use Selling Apps
A selling app can also help you get cash from gift cards.
Applications like OfferUp and Mercari help you sell unused gift cards to cash them out.
Set the price of your gift card and a brief description through the app to make a secure transaction.
Using selling applications is one of the safest ways to get cash from a Visa gift card because there is a built-in guarantee that customers will pay your money.
However, selling through a third-party application means that you will have a percentage of your money taken from you.
---
Make extra money by browsing the web, watching videos, playing online games and testing new products - clothing, food, cosmetics and more! Its free to join. Sign up for your chance to
get a $5 Swagbucks bonus.
---
Selling through an app might not be a good option if you want every cent of your gift card.
Related: Popular ways to sell items locally
---
6. Exchange Gift Cards at Grocery Store Kiosks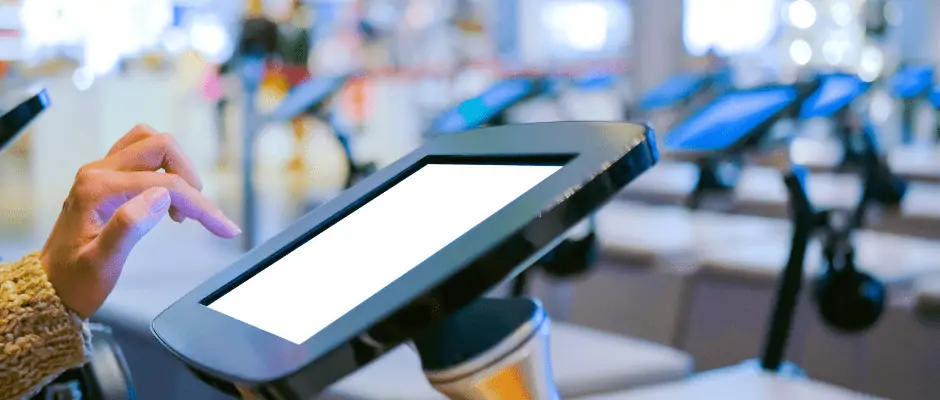 Some grocery stores will allow you to exchange your gift card for cash at their store kiosks.
You can get cash from gift cards by exchanging it at a kiosk near you. It is a great option if you do not intend to use your card.
In many cases, the store will resell the card to a website or repurpose the card to the manufacturer who will resell it.
Do not plan on saving the information on the card for later use.
The repurposed card will have different information, so you cannot reuse it.
---
7. Use A Visa Gift Card on Amazon
You can use a Visa gift card on Amazon by loading the activated card into your Amazon account.
Load the money onto your Amazon account by "reloading" money into your Amazon account.
By reloading money into your account, you raise the account balance in your Amazon account. Under your Amazon settings in your Amazon account, choose to reload money.
When it comes time to purchase the funds, enter the gift card information, and the money will load into your account without an additional charge.
Redeeming it as a gift card and activating it into your account as a "reload" will give you the full gift card amount, something that other websites do not do.
According to Business Insider, you will need to select the gift card option when checking out from your Amazon cart.
If you do not select a gift card, it will charge your regular payment choice.
---
8. Gift Your Visa Card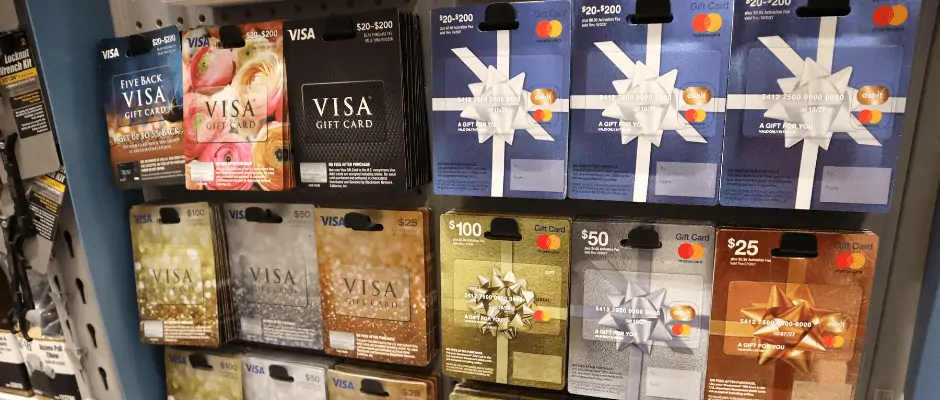 Visa gift cards are wonderful gifts, especially if you have one lying around but have nothing to do with it!
Most Visa gift cards never expire, and they do not have a name on them either, so you can give them to anyone.
The general minimalism of these gift cards makes them the perfect gift for any age, gender, or occasion.
Gift recipients can use Visa gift cards for any purpose.
Many people consider a Visa gift card a better gift than cash because you can use them for online shopping. In an age where everything is purchased online, Visa gift cards are the perfect gift!
They are also great gifts for people who drive since they make great disposable gas cards.
These small gift cards can become very meaningful if you spruce them up with a greeting card and some wrapping paper!
---
9. Purchase Money Order with Visa Gift Card
Purchasing a money order is one of the most direct ways to get cash from a Visa gift card.
It is a reliable way of cashing online currency that people use worldwide.
In stores like Walmart, purchasing and sending a money order costs only 88 cents, but the price can exceed $5 per money order in banking institutions.
So, be wary where you purchase your money order so you'll get the most of your Visa gift card by exchanging it for cash.
After purchasing a money order, fill it out with your necessary information and the amount.
Submit your money order to either a grocery store or a banking institution, and you can receive your money instantly.
You can purchase bulk money orders if you have multiple gift cards to cash. Or, you can use several gift cards to pay for the grand total of your money order.
---
10. Pay Your Bills With Visa Gift Cards
Since your gift card comes from Visa, it will function as a credit card under most bill-paying websites.
That means that you can use your Visa gift card to play cable, internet, rent, electricity, and other bills.
There are no special workarounds to paying bills with a Visa gift card. Simply activate your gift card, then enter the card information like a normal gift card.
When paying bills with a credit card, you will likely incur a service fee for using a credit transaction.
To avoid this, select the gift card option before entering your card information, and the vendor should minimize or waive the service fee.
Unfortunately, not every vendor accepts every Visa gift card. If they do, using a gift card as a credit card on most major websites can drain a large percentage of your funds.
---
11. Flip Items Using Gift Cards for Cash
Are you looking to make money off the old gift cards you have lying around?
Flipping items is the perfect way to turn your old gift cards into cash.
Instead of getting cash directly, purchase something with your gift card and flip it for cash by selling it at a used goods store.
You can also buy thrifty items online with your Visa gift card and re-sell them on eBay for cash.
You can make quick exchanges for cash in person or receive a deposit directly to your bank account, Apple Wallet, PayPal, or any other type of account when selling online.
Flipping items is a great way to cash out your gift card, and most people typically make additional money while doing so because of the great finds they come across while thrifting.
Plus, you might find something great that you want to buy yourself with the funds.
Related: How to flip money
---
Final Words on How to Get Money off of Prepaid Card
How to get cash from a Vanilla Visa gift card?
You can only transfer vanilla Visa gift cards to PayPal, exchange them in-person, or cash them online with a website.
You cannot get cash back from a vanilla Visa gift card.
Can you get cashback from a Visa gift card?
You can get cash from a Visa gift card through several methods, like transferring it through apps or reselling it for cash.
Many ATMs are available globally that allow you to withdraw cash from your Visa gift card instantly.
Can you transfer money from a gift card to a debit card?
While it is not possible to transfer money from your gift card to your debit card.
You can transfer the money to your bank account usually the above mentioned methods and then load it onto your debit card.
Can you use a Visa gift card at an ATM?
Visa prepaid cards are different from Visa gift cards.
You can use a prepaid card to withdraw money at an ATM, but you cannot use a Visa gift card at an ATM because you do not have a pin number associated.
A pin number is always needed for cash withdrawals.
Quick Recap: How to Cash In Visa Gift Cards
Let's take a quick recap of the most common ways to get cash from a visa gift card.
Convert it to cash using CardCash
Transfer it to Venmo
Sell on gift card sites
Use online marketplaces to sell gift cards
Use selling apps
Exchange at gift card Kiosk
Use on Amazon
Gift your visa gift card and save money
Purchase money order
Pay your bills
Flip items using gift cards