*This post may contain affiliate links. Please read the full disclosure here. 
Free Money Apps for Android
With the vast advancement in technology, it should come with no surprise that you can make money with android phone apps.
The way you earn with these android apps is by completing short activities like, playing games, watching videos or even surfing the web.
All the money making android apps listed in this post, are free to use which makes it a great way to cash in on your spare time.
So next time you sit down to watch Netflix or have nothing to do, choose one or two of these android apps and make money from it instead!
In today's article we will discuss:
Can you make money with android apps?
What is the best android app to make money?
What android app pays the most?
19 Android Apps to Make Money
Let's take a look at some of the top paying apps to make money on your android phones, with this list of 20 best android apps for earning money.
1. Swagbucks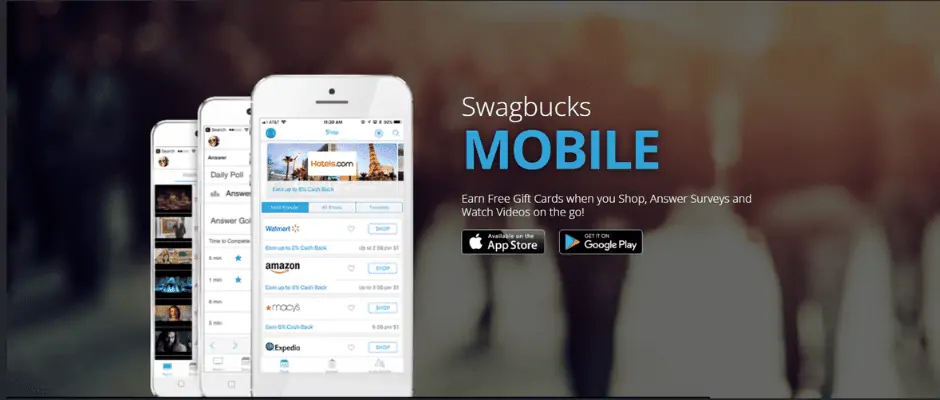 Swagbucks is a rewards program that was founded in 2008.
This is an android phone app where you make money for shopping, watching videos and participating in product testing opportunities.
With Swagbucks, you take part in polls about your experiences and then get paid in 'Swagbucks' also known as SB's, which you can redeem for gift cards from retailers like Walmart and Amazon.
You can even get PayPal cash for your points, making it one of the best android app to make money.
Other ways to make money with the Swagbucks android app is by taking part in surveys worth up to $35 and also surfing the internet.
The new Android app Swagbucks TV Mobile awards you for watching videos, making it one of the best android apps for making money. Swagbucks is free to join and you can sign up here to get a free $5 bonus.
2. Fetch Rewards

With this android shopping app, all you do is snap a photo of your shopping receipt to be eligible to earn rewards points which you can then exchange for gift cards.
Whether you shop at restaurants or grocery stores in the US, simply upload your receipts to add points to your account.
The best part is that Fetch is free for users and you can sign up right here to get your first free 3,000 points for a limited time.
3. Survey Junkie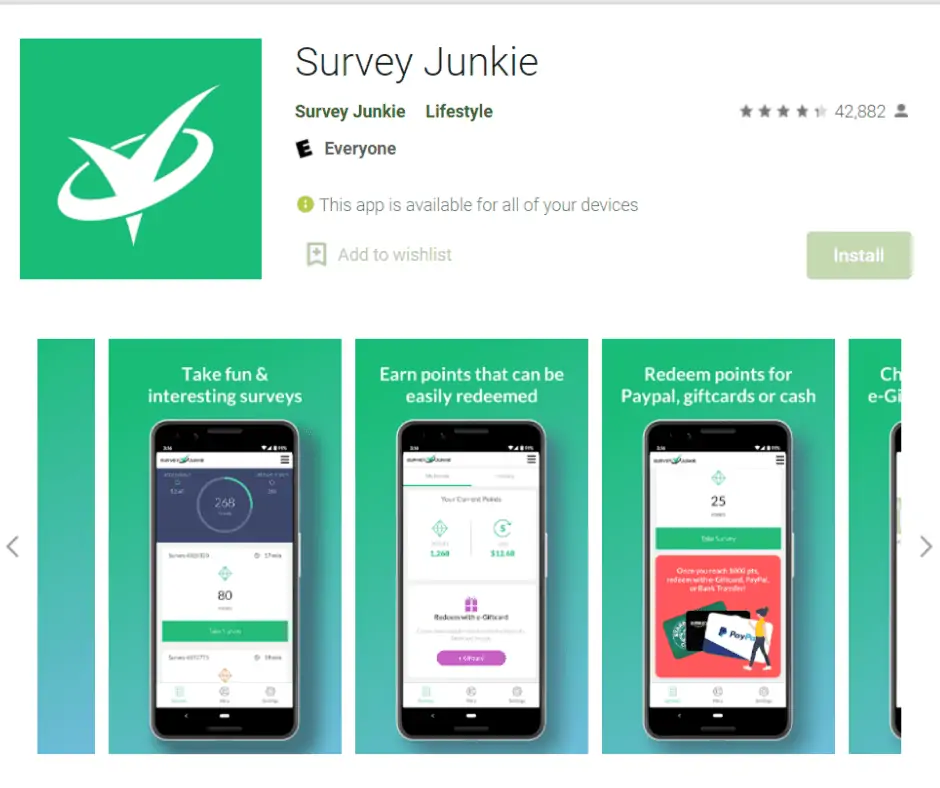 Survey Junkie, which has been operating since 2013, rewards you for taking part in surveys online or using the app.
Thanks to its success and longevity, it has paid out hundreds of millions of dollars to users worldwide.
While Survey Junkie is primarily a survey site, they also offer paid focus group opportunities worth up to $150 a study.
4. Mistplay game app
Mistplay is the app where you earn gift cards just for playing games! Sounds too good to be true, but it is completely legitimate.
The mobile games are curated just for you and the units you earn while you play can be redeemed for gift cards to Visa, Amazon, and the Google Play store.
Mistplay is definitely one of the best android apps to make money playing games.
If you are looking for money making ideas, check out this full list of game apps that pay real money.
5. Inbox Dollars
This rewards app pays you cash just for doing your daily online activities.
It's free to join and you are rewarded for taking surveys, reading emails, completing offers, playing games, and shopping online.
Since 2000, members worldwide have been paid out over $57 million! Join Inbox Dollars and get a $5 sign up bonus. This makes them one of the best android apps for making money.
Related: Get free products for review
6. Ibotta
Ibotta lets you redeem cash every time you shop through the app, no matter whether this is online, in-store, traveling, or at restaurants.
It is a free program that rewards you with high paying cashback offers.
Ibotta gets its revenue from more than 1,500 brands and retailers, which means that users get the best deal possible.
It's simple to participate. Before you shop, search the app for offers and upload your receipt once you've made your purchase.
You can earn up to $20 in welcome bonuses by downloading the Ibotta android app to make money on your purchases.
7. TopCashback
TopCashback will reward you for using the app to search for a retailer or service, as long as you tap through to buy from their website.
It's as simple as receiving cash into your TopCashback account, once your purchase has been approved.
---
Get $5 for signing up with Swagbucks:
Make extra money by browsing the web, watching videos, playing online games and testing new products - clothing, food, cosmetics and more! Its free to join. Sign up for your chance to
get a $5 Swagbucks bonus.
---
8. Nielsen computer and mobile panel
The Nielsen Mobile Panel is a data collection platform that rewards users for participating in their research.
The app follows users to understand their patterns of mobile use.
You earn rewards like gift cards from Amazon, Target, and Starbucks, to name a few, as well as electronic goods like digital cameras, DVD players, and flat-screen TVs.
Read our full review of the Nielsen computer and mobile panel.
9. Acorns
If you're interested in micro-investing and robo-investing, Acorns is the app for you. Based in Irvine California, it boasts $3 billion in assets and 8.2 million customers in 2020.
Essentially, it is a savings and investing app with a cash-back rewards program.
All you need to do is maintain a balance (and add limb payments whenever possible) to grow your portfolio. You can even round up your purchases on linked credit and debit cards.
10. Instacart
This website and the app-based organization provide shopping and delivery services for groceries in the United States and Canada.
It provides customers with Instacart personal shoppers who are waiting to pick, pack and deliver everything in the order.
As an Instacart shopper, you are an independent contractor and you can choose which hours you want to work.
11. Doordash, Inc.
Doordash is a food ordering and delivery platform that users can access from their computers or using the mobile app.
It is the largest food delivery company in the United States, boasting a whopping 56% market share. Its profit comes from charging commissions on all orders, from both customers and the shops, restaurants, and convenience stores.
As a Doordash delivery driver, you can get jobs on the go with their phone app and get paid for each delivery.
12. Stash
Stash is the budgeting and personal finance app for beginners and it makes investing accessible and affordable for millions of people worldwide.
With close to 350,000 reviews on Google Play and a ranking of #29 in the finance category, it is of the best android apps for making money.
The app's automatic investing tool encourages you to round up your Stock-Back card purchases, which will be invested once you reach $5.00.
With unlimited trading and no add-on commission fees, it is a cheaper option than most bricks-and-mortar investment companies.
13. Trim
Trim is the personal finance app that makes it easy to save money on your bills.
With a service that includes negotiating bills and cancelling unwanted subscriptions, it helps trim the fat from your unnecessary spending.
14. OfferUp
OfferUp makes it easy to connect with local buyers and sellers. With the app, you can browse for whatever you're interested in, or post your unwanted goods to sell.
One of its best features is the instant messenger, which allows you to negotiate prices and meet-up times and locations in real-time.
15. MyPoints
MyPoints offers many ways for you to earn reward points, from taking surveys, eating out at a restaurant, and participating in online content, to shopping online and in-store.
With over nine million members worldwide, it is one of the oldest rewards programs out there.
If you're a member, you earn points each and every time you buy an item of your favorite brand. But that's not all. Users can also get points by completing surveys and watching videos.
All you need to get your reward is to cash-in your points for a gift card or get a cash transfer from your PayPal account.
Gift card options include TGI Friday, Burger King, Longhorn Steakhouse, Chilli's Olive Garden, Walmart, Amazon, iTunes, and Cracker Barrel, to name just a few.
16. Steady
Steady is a great way for users to access new income streams by listing casual, part-time, and gig opportunity jobs.
What makes Steady stand out is the customized income recommendations developed through your Steady profile and community.
As a member, you can also access emergency cash grants and work towards cash incentives.
17. Mercari
Mercari brands itself as 'your marketplace' and it certainly is that.
Using the Mercari android App, users buy and sell products quickly and safely from their phones.
With a list of products curated especially for you and same-day and delivery pick-up options, it certainly is an easy way to earn money by selling your unwanted goods.
And, with no person-to-person meetups, it is also perfectly safe.
18. MobileXpression
MobileXpression is a market research company whose smartphone app pays you money per week to run on your phone. It tracks your online behavior and uses the data from its customers to study widespread trends.
The app will also send users surveys to answer, for which they are awarded extra credits.
According to their website, you can earn enough credits for a $5 Amazon gift card in just a week.
All the data MobileXpression collects is used for market research.
19. Rakuten
Ratuken pays users to shop at their favorite stores. By partnering with hundreds of shops worldwide, you receive discounts and huge cashback on your shopping.
Ratuken makes its money through affiliate commission, which means that the big stores pay it for referrals.
When you use the Ratuken app to visit an online store and then make a purchase, you are considered to be a 'referral', and both you and Ratuken get rewarded.
Ratuken has some of the most generous rewards online. For example, they offer 5% back at CheapTicets.com and 12% at Shoes.com.
Common FAQ's
What is the best android app to make money?
Swagbucks is by far one of the best android apps to make money.
The reason is that Swagbucks offers more than one way to earn. From surfing the internet, playing games and participating in surveys, Swagbucks offers a ton of different ways to make money.
Moreover, they also give you a $5 bonus just for signing up. Joining Swagbucks is free and you can sign up here to get your $5 bonus reward.
Can you make money with Android apps?
Yes, you can make money with Android apps and we have discussed some of the best apps that make money in this post.
What android app pays the most?
For more on this topic, check out our list of highest paying apps to give yourself more options to choose from.
Can you earn money by playing android games?
Yes, you can certainly earn money by playing android games. See the full list of games that pay real money here.