*This post contains affiliate links to products I use and trust. This means I may receive a commission when you purchase a product using my links at no extra cost to you.
We all use social media to grow our blog traffic. We learn and experiment using various strategies to help give our blog that much-needed visibility. Pinterest and Facebook are by far my top two favorites. For Facebook, these 4 strategies below will sure increase blog traffic for free – yay to that!
If you are looking to grow your Pinterest account as a new blogger, this post will help you get started. When I started this blog I used to follow a manual pinning pin strategy (this is great if you don't want to spend on schedulers), but now I let tailwind do it for me on autopilot. I have a step-by-step post here on how I went from 0-600 views a day using tailwind in my first 5 weeks blogging! Whether you pin manually or with a scheduler, the important thing is to stay consistent – which is what Pinterest prefers.
Getting back to Facebook…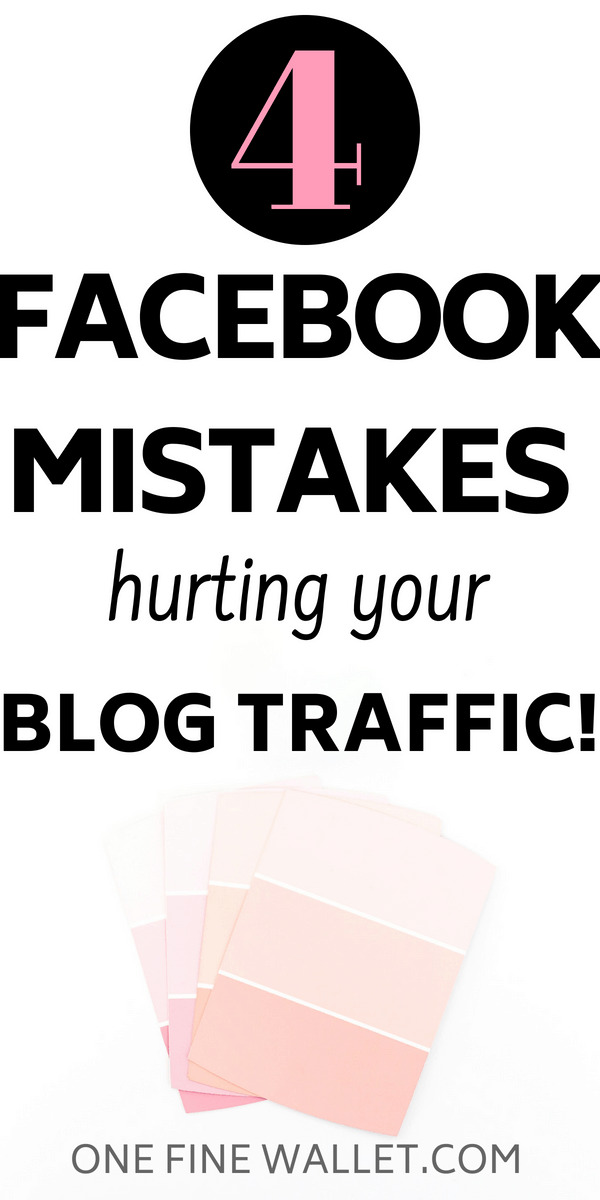 Most of us take part in Facebook share groups to promote our blog posts. Such a harmless way to promote, but… Here are 4 mistakes you might be making, that could be hurting your reach.
1. Joining the right Facebook threads
To find a relevant Facebook group search "your niche"+ groups, and you will find a whole list of them. Sure we look at how big and active the group is before we join. But I prefer taking part in groups that allow for sharing your Pinterest links. Yes! Join more Pinterest share threads.
This is purely my personal opinion on what has worked for me – I take part in just 3-4 active Pinterest threads every day, complete the threads and I'm DONE! I don't waste time doing a whole lot of other threads that are not worth the effort. Don't overwork yourself doing time-consuming tasks, unless you are looking to build your social followers.
Pin all threads- No anymore for me! I used to take part in them in the past. But I find since everyone is obligated to PIN ALL they tend to throw your pins into the wrong boards confusing Pinterest.
Let me explain. I once pinned a "how to start a blog pin" to a PIN ALL thread. A few bloggers pinned it to a recipe board, travel board and one to a share all pins (most likely because I was not in the same niche as them). So because this pin is being pinned to totally different categories, Pinterest finds it hard to understand what my pin is about. This makes it hard for my pin to rank high on the Pinterest smart feed.
Try to limit yourself to the type of Facebook threads you join.
Quality over quantity is true in this case.
2. Sharing content at the right time
Say a thread opens at 8 am in the morning and is open for 24 hours.
When I pin to it at 10 am, my pins get a good amount of re-shares by others in the group.
But say I share my pin at 3 pm, the number of bloggers sharing my content reduces.
Why?
Because most of the bloggers that join share threads, drop their links share 5 or 10 of others content and leave. So by the time you share your link later in the day, there are not many active participants.
Share your links to threads earlier in the day. If you participate in a lot of threads, write down what time the threads open and share your link to it when it opens. This way you have more eyes to re-share your work!
3. That link again!
This might seem strange to some, but, yes you need to be smart with sharing your links.
How?
Here's another example.
I share my super tasty "keto chocolate cake recipe" on Monday. Everyone loves it, and I get a huge number of shares from others in that thread. Great!
Now on Tuesday, I share the same "keto CCR" to the same group, either because it's doing so well or because it's a new pin. Again you get a fair number of shares. But by Wednesday or Thursday, no one wants to share your pin. Because they have pinned it already, they find someone else's pin to share. No one wants to share the same pin on Pinterest every day, right?
Remember most of the members of a Facebook group participate in the SAME threads every day. Give them a variety to pin. I say this because I have seen bloggers share the same pin throughout the week, and the number of shares they receive reduces. So if you have been doing this, time to change your strategy.
I know it might be a new pin that you want to be shared multiple times, but I think limit sharing it to twice a week is good. As for the rest of the week, share some of your other great content too!
4. Sneak peak…
When you share a link make it stand out.
I try and write a maximum of 4 WORDS along with the link I share (no long paragraphs though, unless it's a self-promotional thread!).
For example, if I share this link, I would write "4 viral Pinterest tips" and maybe a little personalization with AN emoji. Again don't go overboard with your emoji's too 🙂
Keep it short, friendly and neat. The important thing is you are letting them know what your pin is about.
Why is this a good thing?
Because sometimes when you have a long blog post title, your title might get cut in the preview and its hard to figure out the topic of your link. Make it easy for other bloggers to share your content.
There you go!
The 4 Facebook tactics that increase my blog traffic, when I share them on facebook groups.
I have only been promoting my blog on Facebook and Pinterest.
As for the rest of my social sites…I sit at around LESS than a 100 followers on Twitter (so if you'd like to follow me that would be super awesome!), and haven't started my Instagram as yet (yikes, I know!). Instagram can be great if you blog about something visually appealing, in my case not so much hence the lag 🙂
You can take a look at my stats from just these two social sites, using my Facebook and Pinterest strategy.
1st-month blogging- over 5,000 pageviews
2nd-month blogging- 11,000 pageviews
3rd month blogging- I'll let you know soon 🙂
So get promoting on Facebook the right way and if you found this helpful, or got any facebook strategies of your own, I would love to hear from you in the comments section below.
2 Popular Money Making Sites
Earn up to $50 each time you share your opinion about products and brands - available to those in the US, Canada and Australia. Join Survey Junkie here, it's free!
Take part in daily surveys worth up to $35 with Swagbucks.