*This post may contain affiliate links. Please read the full disclosure here. 
If you're looking for a way to make extra money that allows you to work on your own terms, you may be interested in learning how to get paid to advertise for companies.
You don't have to have a background in marketing and advertising to earn an income from reputable companies.
There are several ways that you can get paid to advertise for companies online.
Despite what you may have thought, you don't have to have hundreds of thousands of followers to be a brand influencer.
On this page, we're going to discuss some of the best ways to earn money by advertising online.
There are many real and reputable companies that are paying people like yourself to advertise their brand.
If you're interested in learning how you can make real money doing this, you've come to the right spot. Keep reading to learn more about how companies pay for advertising their products.
How to make money online advertising?
By having an online presence, you could have the stepping stones already established for advertising online.
If you have a social media account, then you likely already have followers.
These are people you can begin advertising to.
However, you may need to grow your account for a more successful advertising experience.
Many reputable brands prefer to work with advertisers who have more than 1000 followers. When you want to stand out to these brands always remember, the more the merrier.
Having a personal website or a niche blog is also a great way to begin advertising.
If your blog is geared towards a particular niche, you're more likely to make an impression on companies that are within that niche.
If you would like to advertise for cosmetics companies, it helps to have a blog or website in the beauty niche.
WAYS TO GET PAID TO ADVERTISE FOR COMPANIES
Once you have an online space where you can advertise for companies, there are many ways you can approach finding opportunities.
Finding paying advertising gigs is easier than you may have thought.
Today, we're going to share 9 different ways to get paid to advertise for companies with you.
Even if you aren't savvy online, there are still many great opportunities to earn money advertising for companies.
This is a great way to earn an extra income and most advertising gigs allow you to work on your own terms.
Let's take a closer look at some of the ways you can earn money advertising for companies and brands.
1. Get Paid for Advertisement
Yes, you can get paid to run ads on a blog or website.
You can choose what pages they go on and where they will be placed to grab the reader's attention.
Some of the different companies you can use to find ads to earn money from are:
Google Adsense
Monumetric
Mediavine
Adthrive
When planning the layout of your website, there will be sections where you can place a block for ads.
You may have the option to place as many ads as you would like, but that doesn't mean you should.
If your page is cluttered with ads, you will turn off traffic and the likeliness of anyone clicking ads is very low.
Instead, you should strategically place ads so one appears every once in a while as a person is scrolling through your website.
This way it won't annoy them, but may attract them and result in the reader clicking the ad.
Google Adsense will choose which ad gets placed in the ad-block section.
They will generate an ad that is relevant to the reader's online patterns, which has a higher click rate. Other companies allow you to choose which ads you place on your website.
Money made by ads is typically paid in commission. When a user clicks on the ad and buys something from the website, you will earn a commission on the sale.
If you want to make money advertising on a website, you can check out how to start your own blog now.
2. Affiliate marketing
Affiliate marketing is when you introduce your website traffic or social media followers to a company.
Similar to placing ads, you would earn a commission for bringing a paying customer to a brand.
Companies like FlexOffers and ShareASale have several affiliate marketing opportunities.
There are many ways that you can approach affiliate marketing, allowing you to get creative with the method.
Some people will choose certain products to advertise, and feature them on their Instagram stories or write a blog post about them.
If you create a blog post about a particular product, the link will always be there to continue earning money off of.
One of the best tips for making money off of affiliate marketing is to think of a problem a reader or follower may be having and introduce the company's product or service as the top solution.
3. Get paid to advertise on social media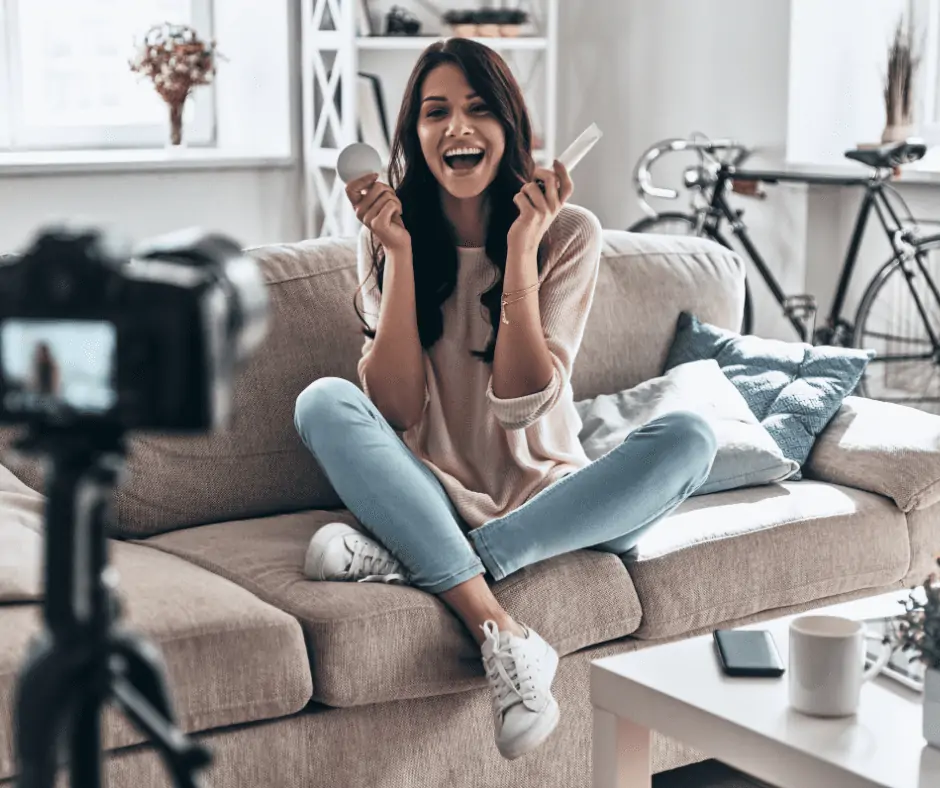 If you're an avid social media user, you could be a contender for advertising on social media.
Many brands are looking for people to become influencers and introduce people to their products.
---
Make extra money by browsing the web, watching videos, playing online games and testing new products - clothing, food, cosmetics and more! Its free to join. Sign up for your chance to
get a $5 Swagbucks bonus.
---
People who post frequently, have positive profiles, and have plenty of user engagement are likely to be considered by brands for advertising on social media.
For these opportunities, the brand will pay you (and they may even set you up with free or heavily discounted products) to advertise for them on your Instagram or TikTok account.
Instagram is one of the most popular social media apps for being paid to advertise because you can give people a visual of the product.
For advertising on Instagram, you may either earn a commission on the number of sales you drive or get paid for a sponsored post (which we will cover in a moment).
Read also: How to make money on Instagram and grow followers
4. Advertise products on YouTube
If you have a YouTube channel, you could get paid to advertise for companies on your YouTube channel.
YouTube has a program that you can apply to in order to monetize your videos.
If you are eligible for this program, you could earn money off the videos you post as YouTube will place advertisements before them.
This isn't the only way you can earn money on YouTube.
Some reputable brands will also pay you to create YouTube videos advertising a particular product.
Many companies will send the creator-specific items free of charge and then arrange the outline for the paid video. Not only is this a great way to earn money, but it also helps to grow your YouTube channel.
5. Sponsored post
A company may arrange to do a sponsored post on your social media account or website.
The most common way to do a sponsored post is on Instagram.
This is when a post is created on behalf of the company for compensation.
The company that you are working with will have guidelines surrounding the sponsored post.
There will be a particular message that you are supposed to deliver with the post and they will likely want the caption worded in a particular manner.
The company may even have a specific date and time of when they want the sponsored post to be posted.
6. Car advertise
You don't have to have an online presence to advertise for companies.
If you own a vehicle that you drive around daily, then you could earn money for advertising. Platforms like Carvertise and Wrapify allowed people to apply for advertising opportunities with their personal vehicles.
How this works is:
Drivers apply for advertising opportunities.
The platform will match them with a company.
The driver will receive a wrap to place on their car for the advertising campaign.
They will get paid monthly by direct deposit for driving with the wrap on their vehicle.
The driver will keep the wrap on their vehicle until the campaign is over.
7. Brochures
Many companies will exercise every angle in order to attract more customers.
While most people can be found in the digital world, there are still a lot of people that are enticed through old fashion advertising techniques.
A lot of companies will mail out brochures, especially when they have an upcoming event to make sure all potential customers know about it.
You can find opportunities to mail out brochures on behalf of companies that are too busy to stuff and stamp the envelopes.
Read also: Get paid to read emails
8. Organize a home event
Hosting a home event is an excellent way to get paid to advertise for companies.
This is when you host a get-together at your home and invite friends, co-workers, neighbours, and family members over to see what the products are all about.
The company will typically set you up with tester products and catalogues.
This way, you can show everyone how these products work and they can get to try samples to see for themselves.
Often, the host of these home events will earn a commission on any products that the guests end up purchasing. Some companies will even throw in a bonus if the host is able to convince one of their guests to host a home event as well.
Take a look at this list of direct sales companies that you can be a part of, to make money from home.
9. Sunday market
Does the municipality you live in have a Sunday Market?
This is when different vendors gather to sell products to consumers.
Some companies offer opportunities to get paid to hand out samples and catalogues at these events.
You may find opportunities for these gigs advertised on local job search pages or by contacting companies directly.
Read also: Make money flipping thrift store items online
Final Thoughts on How to get paid to advertise for companies
If you're 9 to 5 job isn't paying enough, you may be looking for other opportunities to increase your income.
Advertising for companies allows you the freedom to earn money on your own terms. This allows people to make room for advertising around their daily schedule without feeling overworked.
The two most common ways to get paid to advertise for companies are by placing ads directly on your website or affiliate marketing opportunities.
When you have a platform that allows you to reach out to more people and discuss different products, you are more likely to get offered better-paying advertising gigs.
While you don't have to have a big social media following, it helps if you're actively growing it.
Having an online presence makes it a lot easier to score paid advertising gigs. However, not all forms of advertising require you to be online every day.
Advertising on your car is a great way to earn extra cash monthly and gives the company a lot of exposure.
With so many different ways to get paid, it's hard to choose just one.
Next Read: Get paid to review product samples at home