*This post may contain affiliate links. Please read the full disclosure here. 
Apps that Pay You to Walk
Did you know that you can actually get paid to work out?
That's right.
You can actually earn extra money by using apps that pay you to walk or exercise. It is a double bonus here, especially if you are on a pursuit to get fit you might as well make use of these "get paid to walk apps".
These apps work by tracking your walking, speed, distance and even your route using the GPS chipset in your phone.
On performing an activity like walking using your smartphone, you'll be rewarded points, which you can redeem for cash or other forms of rewards like gift cards, cinema tickets and even free Starbucks drinks.
And it's not just walking, if you are a dog lover you must check out Rover where you can get paid to walk dogs.
Here's a detailed list of how you can reach your fitness goals and earn money just by getting paid to walk:
20 Ways to Get Paid to Workout
Achievement is one of the more popular walking apps that has been downloaded over 3 million times.
This is a get paid to work out app that helps you earn to complete a variety of exercises, such as walking, swimming, running, biking or even playing a sport.
You log your activities in the app and once you do that you get rewarded with points which you can redeem for cash via PayPal or better yet you can donate to a worthy cause.
With the StepBet app, you set your exercise goals for a certain period, for instance, six weeks and then stake a certain minimum amount of money to motivate you to complete those exercise goals.
If you complete your goals you earn extra cash, but if you do not, unfortunately, you lose the money. On the positive side, this is a great motivator to accomplish your fitness goals.
This get paid to workout app, is compatible with most activity trackers such as the Apple Watch and Fitbit.
Another well-known app that pay you to walk is Sweatcoin. You earn coins called Sweatcoins for the steps you make when walking, or jogging. You can convert the coins you make for rewards or cash.
Want to know how much one Sweatcoin is valued? One Sweatcoin is the equivalent of 1000 steps.
Sweatcoin is widely recognized and is the fastest growing and number one walking app in many countries.
They are also in partnership with over 300 companies for you to redeem your rewards.
Related post:
Higi tracks your exercise activities like route and speed and your health metrics when you connect your phone.
Higi tracking stations are all over the country in pharmacies and supermarkets. You can take part in a walking challenge and check-in at any of these stations to see if you qualify for a healthy prize.
Charity Miles as the name suggests works a bit different from other apps.
Instead of withdrawing all your rewards, you instead get the option to donate to a worthy cause. If you like doing charity work, you can choose Charity Miles.
MapMyFitness offers you challenges and contests that you can complete for prizes.
If you have a competitive spirit you can join the community, compete with others and win exclusive Under Armour gear.
This is the most rewarding get paid to walk apps.
Healthywage is a company that pays you to lose weight. You can use walking as a way to get fit and have the potential to earn up to $10,000 once you reach your weight loss goal. This can be 6 months or a year later. Read more about Healthywage here.
A food delivery company that pays you to deliver food either with a car, bike or walk in some places.
It's not one of the traditional apps that pays you to walk, but you can earn money from this side hustle.
Hours are flexible and you can choose to work either mornings, nights or only on weekends. Sign up for free with DoorDash here.
Here are some other delivery driver jobs that pay well.
If you love dogs and walking why not combine the two and sign up for the Rover app.
Rover is a company that helps you to find a job as a dog walker, dog sitter.
This app is classed as a job finder rather than a fitness program and you get paid directly for your services but it is still a great form of exercise for you and the dogs you're taking care of.
WinWalk tracks your daily steps and you get one coin for every hundred steps you walk.
You can easily convert the coins you make for e-gift cards from big brands.
GigWalk works a little bit different. You register and download the app and from there you bid for the tasks within your area.
Once you are approved, you will get instructions on how to complete the task. Payment is via PayPal.
Lympo rewards you with their own digital currency coins to complete healthy tasks like running or walking.
To get your rewards, you must complete a running or a walking challenge.
With the BetterPoints app, you collect points by doing healthy outdoor activities such as walking, running and even cycling.
You can redeem the accumulated points for vouchers at popular stores. You can also win Better tickets which you can exchange for Better points.
Walgreens allows you to get Balance Rewards when you use their Healthy Choices method to collect points.
---
Make extra money by browsing the web, watching videos, playing online games and testing new products - clothing, food, cosmetics and more! Its free to join. Sign up for your chance to
get a $5 Swagbucks bonus.
---
You can take part in health challenges such as walking which can then be redeemed for dollars in-store. Start by signing up for a Walgreens Balance Reward account on their website and select their Healthy Choices fitness app.
Postmates is another delivery driver job similar to Doordash, that was previously listed in this post.
With Postmates you will be delivering food, drinks and retail, and you can use your bike to do this.
You can earn decent money with Postmates by walking around to deliver items to customers. Average pay is $24 an hour and you can sign up with your email address to get started here.
Earthmiles is also another app that rewards you for getting fit.
The app tracks your daily activities and you receive Earthmile payments, which you can then trade for rewards on their platform.
People Walker is a walking app that allows you to book a walking partner on demand.
Once you yourself decide to become a walking partner you can earn money for walking with the people who want to partner up. It's an excellent way to get outside, get some exercise and meet new people.
This next one in the list is Fit for Bucks, a get paid to exercise app as long as it's an activity that gets you moving.
Whether it is running, walking, or hiking, dancing in your living room or pushing a shopping cart in the supermarket it doesn't matter. The more steps you rank up, the higher the rewards.
Conclusion: Get Paid to Workout with Apps that Pay to Walk
After having shared so many get paid to walk apps, it's time to get moving. Either on your your or by teaming up with others to take part in walking challenges.
Its a double win here, where you make some extra cash and get fit at the same time. Just make sure that the walking app chosen works where you are located as some are country-specific.
Do keep in mind, these apps are not going to make you $100 a day. But if you are looking for ways to make even bigger income, check out our other posts on how to earn over $1000 a month working from home.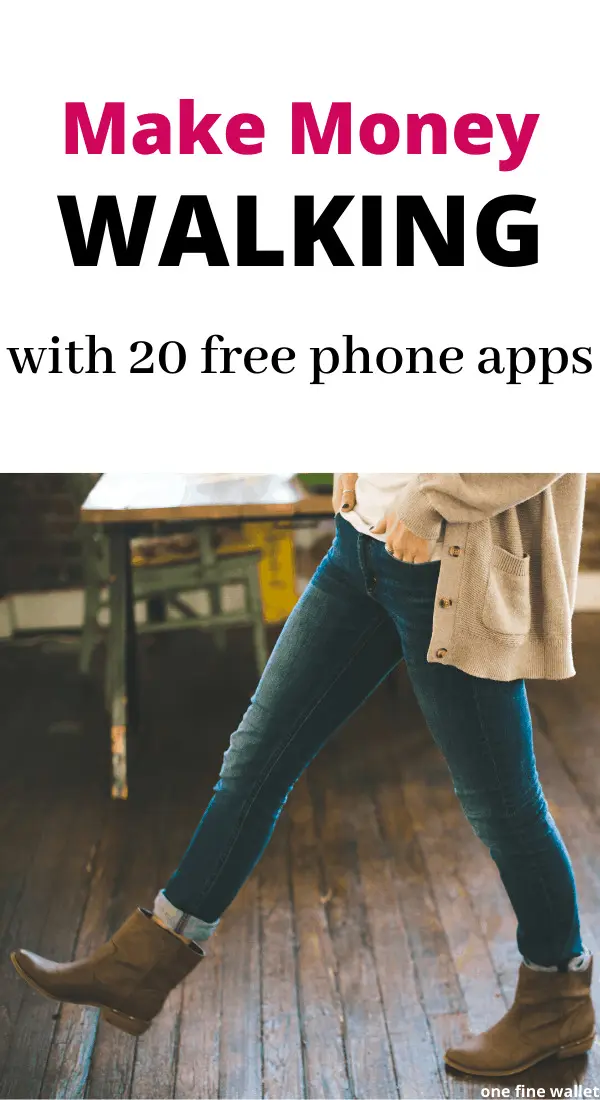 Get Paid to Walk