Data Entry Jobs from Home
One of the best ways to begin an online career is with a work from home data entry job.
You can be an absolute beginner as you do not need any special skills except to be organized and have a high rate of accuracy when typing and entering information.
But a word of caution, it's unlikely that you will get rich from a data entry job. Data entry is a great work from home job if you are looking for a little extra income. A majority of data entry clerks earn between $12-$15 an hour. Having said that, you might come across some higher-paid data entry positions, but there is usually a long waiting list for these positions.
*This post contains affiliate links. Disclosure here.
What is a Data Entry Job?
A data entry job is the basic entering of information into a computer. You type information into a database or a separate document such as a list or spreadsheet. This can be done online or offline. It's a simple task that requires accuracy and speed, and it is probably something that you have done before in some form.
Legitimate Data Entry Work from Home Jobs
One of the most common questions to ask yourself is where can you find scam-free data entry work from home jobs. There are many companies offering data entry opportunities and making sure that they are legitimate is very important as data entry has been known for unscrupulous fake companies to offer non-existent data entry jobs.
What Skills are Needed for Online Data Entry Jobs from Home?
As mentioned above you can be a complete newbie to this field but there are some basic essential skills that you must have.
Typing – You must be able to type and be accurate, the quicker you are the better as that means you can get more work done to earn more money.

Be able to use Word and Excel or Google equivalent – You may have to enter information into a database or a Microsoft Word/Excel document when typing up lists and filling out tables.

A good eye for detail as a high level of accuracy is required.
What Equipment is Needed for Work from Home Data Entry Jobs?
There is some basic equipment that you will need but more than likely you already have them. They are the following:
A PC or laptop

High-speed internet access

A comfortable ergonomic chair

If using a pc make sure to use an ergonomic mouse and that your keyboard has a separate number pad for quick data entry

A smartphone – always good to have so as to stay in contact and be first in line for when new data entry jobs arise
Where to Find Work from Home Data Entry Jobs
There are many places that offer online data entry jobs. Two of the easiest places to look is Fiverr where ads are placed daily looking for data entry workers and on Upwork promoting data entry jobs.
Businesses such as realtors use Fiverr and Upwork for updating lists of addresses and emails. E-commerce businesses also use these platforms to offer product listing gigs. Below are just a few of the easy to apply to companies that also offer data entry jobs.
11 Entry-level data entry jobs
SmartCrowd is part of the well-known Lionbridge online company that recruits globally and is said to be the world's largest recruiter of at home workers. All you need to do is sign up. You must be at least 18 years old and you must be evaluated before you can start the data entry position.
ClickWorker is another global company that recruits for data entry work from home jobs. With Clickworker you work completely independently and you can choose your own hours. There are no special qualifications needed and training is provided for you to be able to complete the tasks assigned. Payment is via PayPal.
When signing up with MicroWorkers you can do a range of different data entry tasks. The jobs can vary from transcription, data mining to categorization to image tagging. Payment is also via PayPal
Amazon MTurk is another data entry microtask site that you can sign up to to make money in your spare time. Now you won't get rich from doing data entry on this site but you can do a variety of tasks such as data processing, data gathering and data research among other things.
This company hires work at home typists to transcribe files like to-do lists, voicemail messages, letters and memos. To join them as a contractor, you will need references and they will conduct a background check.
With SpeakWrite you can aim to earn up to $3,400 a month. Available to those living in the US and Canada, with a good command of English and proficient in Microsoft Word. You will need to pass a typing test to be eligible – the test requires you to have a typing speed of 60 WPM and 90% accurate.
Capital Typing provides job opportunities not only for data entry but also for translation, online customer support, and other content writing jobs. They provide their services for businesses, healthcare, schools and universities, research, retail and more.
This is a transcription company that also offer positions in research and data entry work from home. They offer a flexible work option, where you can choose when you want to proceed. Most of the job openings come in during the day, between Monday and Friday.
They offer a range of work from home jobs including data entry jobs. They are not regularly hiring, but good to keep an eye out for openings.
If you are a US resident and have a PayPal account, you can apply to Sigtrack. They offer freelance online data entry jobs and this job offers to pay every week on a Friday.
Virtual vocations is an online job service that provides a vast number of telecommuting jobs – not just data entry. If you are interested in working from home, you can scan this website for job opportunities in different careers. They have both a free and a paid registration to view the jobs posted. The paid subscription gives you priority alert when new jobs get posted.
Provides opportunities for those interested in writing, research and data entry. You can submit your online application through their website and once accepted you will be offered relevant data entry work. Once things proceed well, your work volume will increase.
This is one of the best places for those looking for any form of legitimate work from home jobs. While you do need to pay to view their job listings – which is either $14.95 for one month or $49.95 for a whole year, you get the benefits of viewing high-quality jobs that aren't scams.
Pros and Cons of Data Entry Work from Home Jobs
Pros
Because data entry is so simple to do you can easily start working from home as an absolute beginner

Although repetitive if you already have a full-time job or just need some extra cash to purchase gifts or help pay off debts it's a simple way to earn some extra money without the job being too taxing

There are a number of worldwide opportunities for data entry jobs
Cons
Although data entry jobs are pretty easy to take on it can become repetitive

The rate of pay is at the lower end of the scale

The job has limited scope for growth
Expanding Your Career
If you are looking to build on your career, there are two online job options that might suit your interest. You advance your career with these options and create extra side hustles to earn a higher income from home.
Transcriptionist
This is a job where you type out what you hear. You will be given a set of pre-recorded audio files and will need to listen carefully and type accurately. The biggest skill needed in this job is patience and ability to type fast and as close to perfection.
Here are over 20 online transcription companies hiring beginners and this free mini-course will give you a better understanding of how transcribing works.
Online Proofreader
This is a high paying online job where you will be required to correct grammatical errors from online content. Proofreaders are required to check for mistakes on blogs, ebooks, email newsletters and social media material. Average earning potential is $30,000/year and here are over 25 online proofreading jobs for beginners.
This free 76-minute workshop is created by Cailtin Pyle that has trained thousands of students to become a proofreader and work from home.
Final Conclusion on Data Entry Jobs
If you want to test out easy to join work from home opportunities, then applying for a legitimate data entry position is a good place to start. As mentioned before you just need basic skills to start earning money. Just remember to look for work with legitimate data entry companies.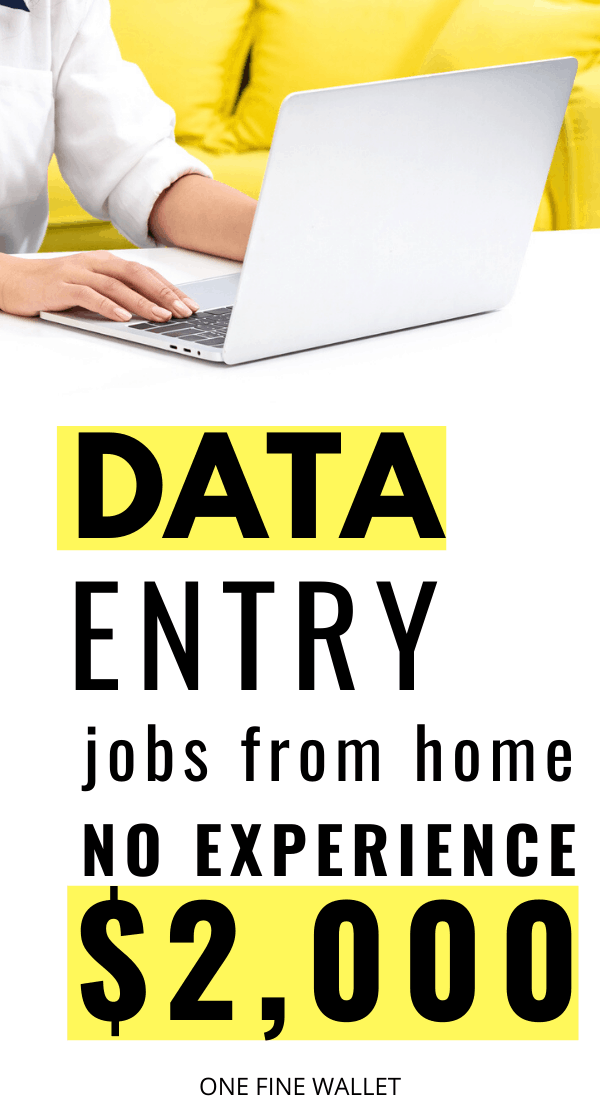 Data Entry Online Jobs
2 Popular Money Making Sites
Earn up to $50 each time you share your opinion about products and brands - available to those in the US, Canada and Australia. Join Survey Junkie here, it's free!
Take part in daily surveys worth up to $35 with Swagbucks.