How to Make Money Fast
Don't we all love the idea of being able to create some extra money outside of our 9-5 job?
If that's you, I have a list of legitimate ways you can make money fast without much effort. Some ideas you might not have even considered doing, but can help you make $100 today.
When I started researching for work from home jobs at the beginning of my online career in 2018, I was always on the lookout for ideas that would make money fast.
Everyone needs money immediately right? We've all got those never-ending bills to pay.
So I dug deep into ways that I could make a few $100 quickly. Do keep in mind, these are not ideas that will replace your full-time jobs. Read this post if you are looking for a more sustainable income.
*This post may contain affiliate links. Disclosure here.
12 Ideas to Make Money
1. Get paid to use Pinterest
This might sound strange but you can actually make money pinning products. When your pins get shared and someone buys from one of your links on Pinterest you make a commission.
So yes, you can sell on Pinterest through affiliate marketing WITHOUT a website. First thing is to find an affiliate program and apply to it. Once you join the affiliate program, you can start promoting its products on Pinterest. Pinterest is a platform where people are ready to buy, so you can make money by spending a few minutes pinning every day.
When I was a new blogger and not making a lot of money from it, I turned to direct affiliate marketing on Pinterest to make a few sales – extra money in my pocket!
Here's a full tutorial on how to create a pin and make money on Pinterest>>
Read this also: How to get Free Money
2. Write and earn
Starting a career as a full-time or part-time freelance writer can be a great side hustle. But if you are looking for a quicker option, there are sites that pay you per article. This is an easy way to earn a few 100 dollars fast.
You email an article and when it gets accepted you get paid for your work, usually via Paypal. Pay can range anywhere between $50-$250 per article. The amount you earn usually depends on the length of your article.
Here is a full list of sites that are accepting>>
3. Sell
Here are some of the things you can sell for fast cash. I love this idea because you not only make money but also declutter your home at the same time!
Here are a few things you can sell online for money.
Books – Bookscouter
Phones –Gazelle
4. Rent
We are not talking about renting your home – although this is a great way to earn some extra money and put your spare room to use. But, today we are talking about rent your driveway or your car.
That's right if you have an extra space for carpark you can list in on websites for cash. If you are looking to rent your driveway there's Justpark, and for your vehicle there's FatLama, and if you are considering renting your room then you can do it on Airbnb.
5. Take photos
Just like selling your books and clothes, you can also sell some high-quality photos you have on your phone.
Most smartphone these days can help you take stunning images, and if you like to sell some of your photos you can do so using apps like Foap. Fotolia and Alamy. These are legit photo selling site that is worth trying.
6. Start a blog
This is the best of the money making ideas. There are bloggers making a few hundred to six figures a month. Blogging can work as a full-time hustle or a part-time gig that you can do in your spare time.
This is a side hustle that doesn't earn you money immediately, but there are many bloggers that have earned money blogging in their very first month. And I was lucky to earn a few hundred dollars in my first-month blogging. (Update: One year later I make a full-time income blogging from home).
If you would like to start a blog, you can begin investing as little as $4/month.
7. High paying surveys
I must admit there are a lot of time-consuming surveys out there that are not worth your time.
My favourite and highly rated survey site is Survey Junkie. You can earn up to $50 an hour on some of their surveys. Here are a few other sites that pay up to $100 per survey.
If you have an hour to spend every day, here are seven of the BEST surveys sites that can earn you a few hundred dollars in cash each month. You can check them out right here.
Also read: How to get free Amazon gift cards
8. Online Research -up to $140/hr
Respondent is a platform the helps researchers find answers from respondents (that's you). Once you sign up with them (which is free), you can access your dashboard that provides relevant research questions for you to answer. On completion, you get money into your PayPal account. You can choose to contribute either 30 or 60 minutes of your time to make money.
You can join Respondent here or view the full tutorial on how Respondent works.
9. Buy for $10 sell for $100
This family sells thrift store products on eBay for a bigger price margin and makes more than a full-time income.
If you are looking for ways to turn trash into cash then you will love this idea. Once you learn how it works you can boost your income each month doing this.
10. Sell a service
If you have a skill to share, why not try Fiverr to make money from it. You list your service – like graphic designing, logo making or any short freelance work, and get paid once you complete your task.
11. Freelancing
There are a lot of ways you can work as a freelancer, from photography, writing and virtual assisting. As a freelancer, you can set your own rates, work your own hours and make money once you complete your job. Freelancers are in-demand as most businesses prefer to outsource some of their daily tasks to freelancers so they can concentrate on other aspects of their business.
12. Write an ebook
This might come as a surprise, but I wrote my first ebook and made an instant $200 the first week I launched it! I used Canva to write my ebook -which was free to use and used Sendowl to take care of customers payment and transactions. I just added my payment details and every time someone made a purchase I made money instantly. If you need help and advice with this side hustle, I'll be happy to guide you.
There you have it.
12 quick ways of making money to add some extra income.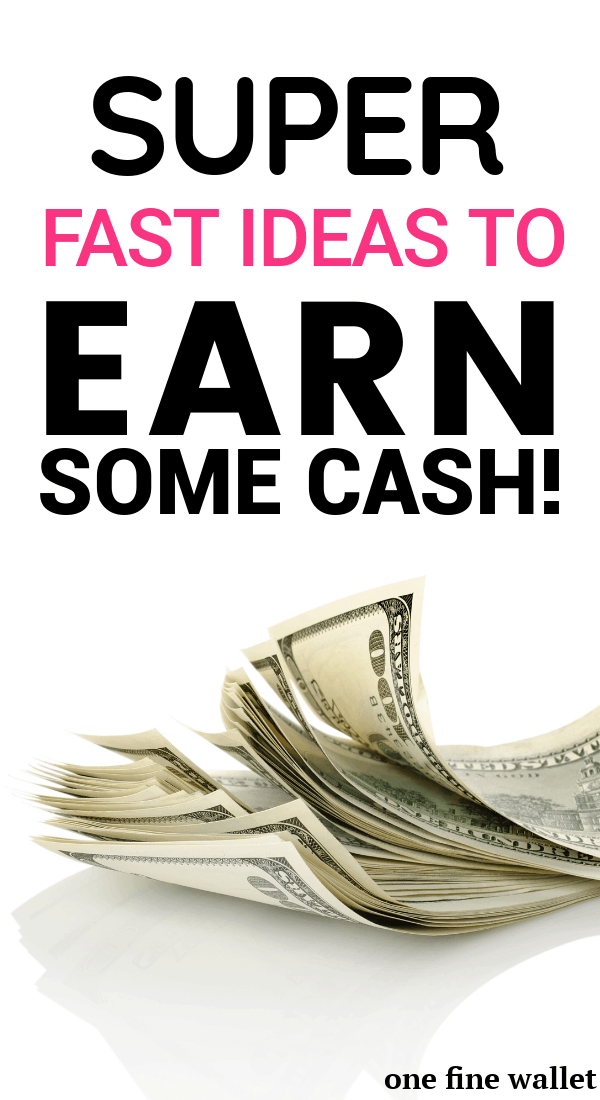 How to Make Money Fast
**Bonus FREE BOOK**
Caitlin Pyle's book is out now and free for a limited time. She teaches you concepts on how she went from $2,000 to $200,000 a month freelancing from home in seven years - from a supermarket cashier to a millionaire at 30 years.
----------------