*This post may contain affiliate links. Please read the full disclosure here. 
Saving money is the best way to keep the money you already have. There are a million expenses that can occur each month but, surprisingly majority of this can be eliminated by some smart budget moves.
I know budgeting is not fun and its hard to let go of a few things so we can save.
If you ask me, money spent in food and college tuition can make up the bulk of your expenditure. The tuition fees are something you cant avoid, but there are a few other places to start saving money.
So without any really drastic advice, here are some ordinary ways students can save money in college. If you are also interested in making a little extra cash in your spare time, I have included it in this list.
*This post contains affiliate links. Please read full disclosure here.
1. Unplug- all cables and wires
Sounds really simple, but having unnecessary wiring on throughout the night adds to your electricity bills. Try and cut this out by unplugging phone/ipad chargers, turn off the Wi-fi at nights, and check for any other plug points that dont need to be left on through the night.
2. Choosing a mobile/phone plan
Compare prices online before picking your phone plan. Doing a quick online search will show you how much you can save when you compare between mobile phone companies. Take the time to reaseach, this can really save you money, especially if you get locked into a plan.
Its also a fantastic idea to look out for deals and discounts during Black friday or Christmas sales.
Related post: Incredibly easy ways to get free money right now
3. Eating on a Budget
I am a big foodie. I used to love to eat out and try new food. But now I try to cook food at home trying new recipes. Take your packed lunch and your water bottle when you are out and about. You can try infused water – like fruit infused water to make your drink interesting.
To make cooking fun, you can try this $5 Meal plan. Super cheap meals ideas delivered every Friday to your inbox.
It includes a comprehensive shopping list so you don't need to plan a second trip to the supermarket and best of all, the meal ideas include very budget friendly healthy ingredients.
You can sign up here for a free 14 day trial>>
4. One App for refunds
I go from super happy when I am shopping for clothes online, and then there is the super sad stage when I am paying for it at the checkout. But here is a free app that will give you your money back, if there is a price drop on the product you buy.
Paribus is an app that will scan your emails for any shopping receipts and give you a price refund if you are eligible for one. They work with big retailers such as Amazon, Target , Walmart and Macy's to provide you the refunds. An added advantage is , you also get compensated for late deliveries.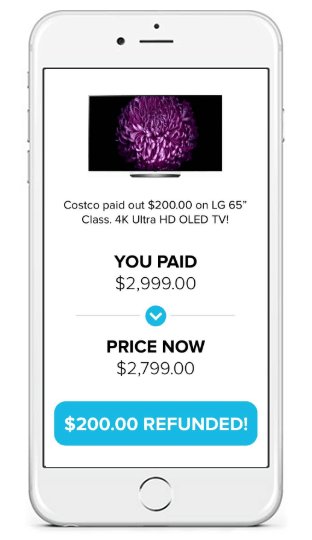 Here is a detailed post on how Paribus works.
5. Surveys
Surveys are a great way to earn a little extra money each month. You can do this on your lunch break, free time over the weekend or anytime you are using your phone.
MindsPay – $50
Vindale Research -$50
Panda Research – $75
There are so many time consuming surveys that I had narrowed it down only to a few of the highest paying ones. Once you sign up to them check your inbox for the confirmation email. You will then recieve surveys to your inbox when there's one available. You can make a couple hundred dollars with these each month.
6. Free WiFi – at libraries.
Why not take advantage of free internet services in your local community, like at the library or a coffee shop. This will save you a lot of money especially when you have a limit on your internet usage.
7. Cancel unnecessary subscriptions
Take a look at your past month bank statement and look at your direct debit each month. If its something you can go without- then its best to cancel them. Like cinema subscriptions, gym memberships, and any other unnecessary regular outgoings.
8. Student discounts
Most retailers offer student discounts, but are only redeemable when you shop in-store. Take a look online to see participating stores in your country to avail discounts when shopping.
9. Cycle around
If you can avoid using public transportation or riding your vehicle, use a bike instead. This is keep you fit and avoid transportation charges and fuel money.
10. Sell old books for money
Heard of Bookscouter? Its a website that will pay you for selling your old books. What a great way to declutter and save money at the same time!
11. Sell old phones at Gazelle
If you have old mobile phones that you having lying around, why not trade it in? You can sell your old iPhones for cash at Gazelle.
Here are some other things your can sell for extra cash.
12. Shop once
When you are shopping for grocery, make sure you are shopping once a week. Regular trips to the supermarket may mean you'll end up spending more. And also buying in bulk will cost you a lot lesser.
Here are some healthy foods you can buy to reduce your grocery bill.
13. Swap cards for cash
The best way to budget is to use cash when you shop. Say you go out with $30 in your pocket, you are restricted in over spending. By doing this there is no way you are going to be spending more than the $30 you have. A neat little trick to stop you spending money.
Also make sure you withdraw cash at ATM's of your own bank or at a free withdrawal cash machine, so you avoid withdrawal fess.
14. Budget your earnings.
If you are working part time as a student, lay out a budget for your savings and expenses. Set aside a percentage for savings from your monthly earnings. Say you earn $1,000 a month, transfer around $100 each month into a savings account you won't touch!
This will make your $1,200 richer the end of the year.
Want to make money as a student?
Here are 10 ways you can make up to $2,000 a month. Most of these are flexible work at home options that will fit around your busy school life.
And if you would like to brush up some skills like photography, business, cooking or designing you can try Skillshare. Its a large online platform where you can learn a new skills from video tutorials without leaving your home.
Here is a free Skillshare trial to try out some of the online courses available.