The most convenient way to shop these days is – online.
And with the growing number of online shopping platforms, it has become even more convenient to choose the best value when shopping. You have "price match or price compare" websites to help you find the best deals.
But what if I tell you there is a much easier way to find the best deal AND get money back without any effort from you.
Sounds too good to be true?
*This post may contain affiliate links. Disclosure here.
There is a legit app called Paribus that will do this for you.
Let me make this really simple.
You buy a $399 camera online at Walmart.
And then later you find that the price drops to $349, and if you have Paribus installed you will get your $50 refunded.
Paribus will take care of the refund procedures for you, so you don't have to send emails or contact customer services for assistance.
How does Paribus work?
Paribus is free to join. Once you sign up, you will give them access to your emails, so they can scan your online shopping receipts and get your refunds.
If you are hesitant to give your personal email address, you can set up a new email account or apply using an email that you don't use often.  Just make sure this will be the same email you use when you do your online shopping.
Paribus is not interested in your emails, except for scanning shopping receipts for your potential refund.
Related topics for you:
3 easy steps:
1. You do your online shopping as you normally would.
2. Paribus will monitor your online shopping receipts and check for any price drops.
3. When they find a price drop, they will let you know and give you a refund.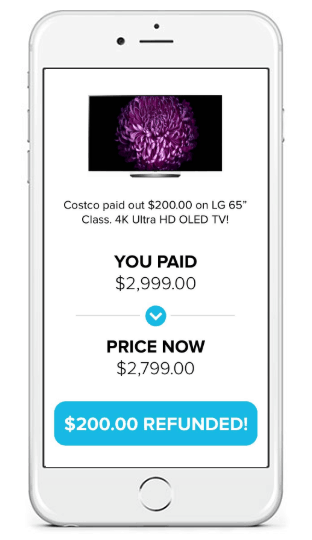 Is Paribus safe?
This company was founded in 2014
Its now acquired by Capital One, a leading financial corporation located in the United States, Canada, and the United Kingdom.
Having a Capital One ownership itself should put your mind to rest.
What are the participating online shopping platforms?

There are over 25+ major retailers participating. Here are a few big names:
Amazon
Target
Walmart
Nordstrom
Macy's
GAP
And yes they not only get your refund for your online shopping. but also help you find the best deals with online hotel bookings. And when they help you find a better rate, they will help you rebook.
Participating companies:
Expedia
Booking.com
Hotels.com
Priceline
Hilton
Marriott
One last thing, Paribus also offers a refund on late deliveries for your online deliveries. So if your Amazon delivery is late by a day or two, you will get compensated for it.
Quick recap:
> Money back when there is a price drop from your online shopping
> Compensation on late deliveries from online retailers like Amazon
> Help you rebook when there is a price drop with your hotel bookings.
It is free to sign up to Paribus and you can do it right here.
This is just such an amazing way to save hundreds when you shop online. And even better, is when you know you are getting value for your money.
Check out Paribus here>>