Did you know that there are real Amazon work from home jobs available?
This is different than selling in their marketplace or delivering their products. For example, Amazon Flex or these 15 other delivery jobs will let you work flexibly from the comfort of your car, on your own schedule.
Based in Seattle, Amazon is a mega-giant in the retail space and offers hundreds of thousands of jobs to people worldwide.
If you're looking for a work from home job that comes with all the perks of working online, like:
Working in a comfortable environment

Casual dress

Home office

Flexibility and reliable pay

And, more!
Then, you are in for a treat!
Make sure to bookmark this article to come back to it later if you need to, and keep reading while we share these 8 incredible ways to help you find Amazon work from home jobs today!
*This post contains affiliate links. Disclosure here.
1. Search Remote Opportunities
Remote is another word for work from home so, when you're searching for Amazon work from home jobs, you'll want to use this term.
First, go to Amazon.com. Then, head to Careers, which takes you to this page. From here, click on Remote career opportunities and start your search.
You can work your way through the hundreds of different full-time and part-time jobs that Amazon is looking to fill and find the one (or multiple) that sound like the perfect fit.
2. Finding Amazon Work from Home Data Entry Jobs
Amazon work from home data entry jobs is plentiful, especially depending upon the time of year you are seeking work.
Today, there are over 800 remote opportunities with Amazon and many of those are data entry jobs.
A data entry job pays you to enter data. This means you'll be doing admin-type duties that require heavy computer work.
This is ideal for people that are good typists and don't mind sitting at a computer for long periods of time, doing work.
The type of data entry job you get will vary based on your skillset and experience.
3. How to Locate Amazon Work from Home Customer Service Jobs
Amazon Work from Home customer service jobs are jobs where you'll work one-on-one with customers. This might include offering tech support to users having trouble with Amazon products, like the Amazon Kindle or Amazon fire stick.
This could also include helping solve customer problems like if they receive their delivery late, get the wrong product or get a damaged item.
Amazon work from home customer service jobs is perfect for people that are customer-centric. You will love communicating with people and you strive to turn a negative experience into a positive experience. You might be naturally helpful and enjoy problem-solving.
To learn more about Amazon work from home customer service jobs, this page will share more about Amazon's mission, their thoughts on customer service, what they expect out of their CS (customer service) team, along with 300+ (as of today) jobs in customer service.
4. Make Sure to Filter Your Job Search
Have a specific kind of job in mind?
Whether it be customer service, data entry, database, leadership, or warehouse jobs, use job filters to your benefit. You can use filters to pick between full-time, part-time, job type and more.
This is a big time saver.
5. Try Amazon Mechanical Turk
Mechanical Turk or Mturk is a platform where you can perform micro tasks for money. These gigs are usually part-time so if you're looking for full-time work from home jobs, this one will not fit the bill.
If you're looking for a way to make money in your spare time, working from home, you can get paid to complete simple tasks using Amazon Mturk.
Click here to learn more about Amazon Mturk.
6. Fulfilment By Amazon (Amazon FBA)
If you are interested in selling products using Amazon, you can try FBA.
Once you join FBA, you can use Amazon to sell your products. In return, Amazon takes care of storage, delivery to customers, customer service and returns handling.
Just send your stock to the Amazon warehouse nearest to you can let them take care of the rest.
Here is a family that's doing this as a full-time business working from home. They also have this free email course that takes you through the steps of starting your own Amazon FBA business.
7. Merch By Amazon
If you are good at art, you can sell your artwork to be printed on T-shirts/hoodies on Merch by Amazon. Your only job is to create and upload your art on Amazon. They will take care of printing and shipping your orders when someone makes a purchase.
This is a great way to sell on Amazon as you don't need to worry about storing stock, shipping or handling customer queries.
You earn royalties for your sale which you can check out here.
To start selling on Merch, you will need to request an invitation using their site's application form.
8. Zen Arbitrage
If you want to start selling on Amazon but have never done it before, you might want to consider Zen Arbitrage. It is an online automation tool that scans Amazon for the cheap books, which you can re-sell for profit.
This is a no-hassle way of making money on Amazon – no inventory/no shipping, which means you can be selling in minutes.
You might be thinking, how much can you make re-selling books on Amazon. The truth is there are people earning over $20,000 in one month! This is a lucrative Amazon work-from-home career worth considering. Check out more about Zen Arbitrage here.
Amazon Work from Home Hiring Process
The Amazon work from home hiring process is similar to the hiring and onboarding process for traditional employment.
First, you'll complete your job application. Depending upon the job you apply for, there may be additional steps required, like assessments, etc. Then, you'll do your job interview (in-person or phone interview) and if accepted, you'll get hired!
They offer in-person and phone interviews, which vary based on your location and based on the position you apply for.
One thing you'll love about Amazon's hiring process is that they actually give you tools and resources to prepare for the interview.
You can check out Amazon's in-person interview and phone interview preparation tips.
Amazon Salary and Benefits
The big questions, what is the salary and what are the benefits?
The answer will vary according to the job that you get.
In general, Amazon does offer benefits. You can read more about their benefits on the Benefits page, which shows that benefits may vary according to where you work, what kind of job you have, and other factors.
Amazon Careers
There are many opportunities to have a long history with Amazon and have a real Amazon career.
Based on our review of Amazon's work from home jobs, it looks like there are opportunities to grow with the company and enjoy a fruitful career.
They have a ton of different job categories like:
Administrative support

Audio/Video/Photography Production

Business intelligence

Database administration

Customer service

Design

Data science

And, more!
You'll enjoy the culture while working at Amazon.
Their goal is to be the #1 most customer-centric company in the world and they pride themselves in uniting with other Amazonians across the globe.
They want their team to dive deep, deliver results, have ownership, invent and simplify, learn and think big.

Final Word on Amazon Work from Home Jobs
Finding Amazon online jobs is within reach! Work from home, be part of a great team, with competitive salary and benefits working in an Amazon remote job.
What do you think?
Would you work an Amazon job from home?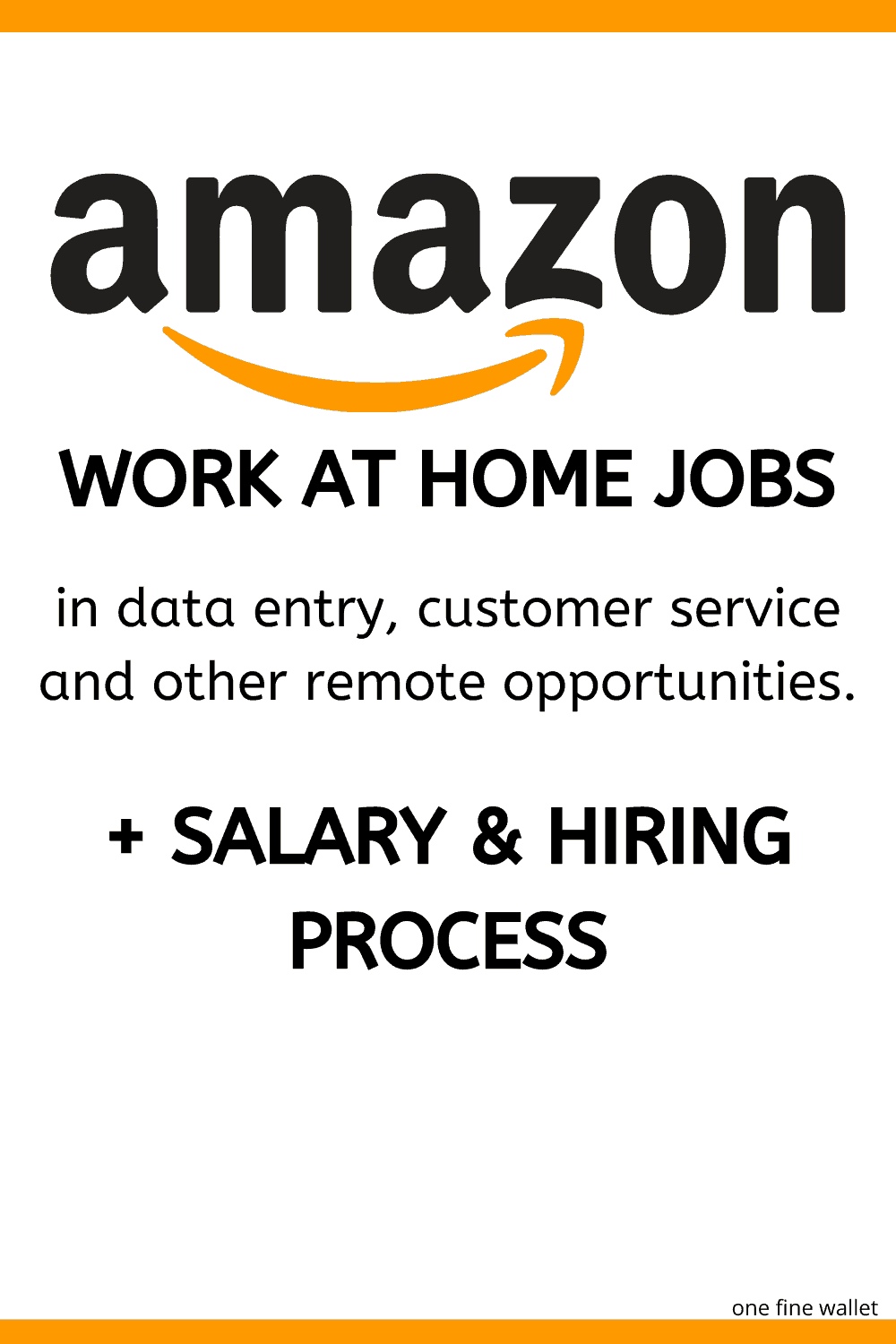 2 Popular Money Making Sites
Earn up to $50 each time you share your opinion about products and brands - available to those in the US, Canada and Australia. Join Survey Junkie here, it's free!
Take part in daily surveys worth up to $35 with Swagbucks.