*This post may contain affiliate links. Please read the full disclosure here. 
Are you thinking – "I need 50 dollars now"?
For those who are, today's post is going to show you how to get 50 dollars fast, and there's one this list that shows you how to make $50 in an hour online!
It's the information age and there's never been a better time for making money at home.
There are scores of jobs out there, provided that you know where to look, and today we're going to tell you exactly where to find them!
Whether you are looking for permanent work that you can do from home or you're simply wondering how to make 50 dollars fast, we've got you covered.
While there are a ton of money making ideas, today we are going to take a look at how to make 50 dollars right now – jobs that will give you quick money.
How to Get 50 Dollars Fast
1. How to Make 50 Dollars a Day Online on Fiverr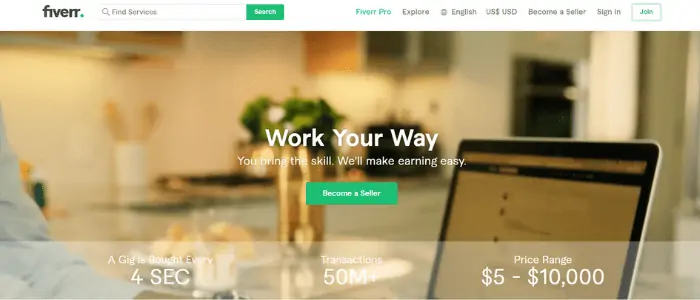 If you're wondering how to make fast cash, our first entry might well be the only one that you need.
Fiverr is a website where you can offer your services as a freelancer.
It gets it's name from the starting price for your services which is – you guessed it – 5 bucks.
You can set a higher price, but this is the minimum, and you'll have to be competitive.
That said, there are all kinds of tasks which you can provide, such as data entry, freelance writing, translation, illustration, logo making, web designing and more.
If you've got the skills, Fiverr is a great way to make some extra scratch and to do it quickly!
2. How to Make a Quick 50 Bucks with Swagbucks
Do you spend a lot of time on the web? If so, why not make money while you are doing it?
Swagbucks is a way that you can do exactly that.
When you register with the site, Swagbucks gives you the option to perform various tasks, such as watching videos, taking surveys, or even performing web searches.
Completed tasks are paid to you in Swagbuck (SB) points.
Those SB points add up and you can use them for things like cash or gift cards to get presents for yourself or your friends or to simply start building up a little savings that you can do whatever you like with.
Join Swagbucks here to get a $5 sign-up bonus.
3. Online Games that Pay
This might come as a surprise but there are a number of online games that pay real money.
While some games offer to reward you with gift cards, here are some games that pay PayPal cash.
Some of the most popular games that pay cash are:
Take your pick and make money playing games in your spare time.
Note: Cash tournaments are not enabled in the following states: AZ, AR, CT, DE, IL, IN, LA, ME, MT, SC, SD, and TN.
4. Branded Surveys
Branded Surveys is a website that wants to pay you for your opinions.
When you sign up on the service you will be given lists of surveys which you can take part in and by doing so, you will earn points that you can use for gift cards, cash, or even charitable donations.
Points are like pennies, with a minimum cash-out value for your points being 500 or $5.00 USD.
Your opinion is valuable, so if you like leaving reviews or putting in your 2 cents worth with comments on the web, you can sign up for Branded Surveys and get started slinging your opinion for cash.
5. Survey Junkie (offer some $50 surveys!)
If you like taking surveys for money, but hate sifting through long lists, then Survey Junkie might be a good fit for you.
When you sign up you will create a user profile that contains interests of yours and then Survey Junkie will automatically match you with surveys that you are more likely to be interested in.
Pay ranges vary, but on average you can make anywhere from $3.50 per survey to $50 a survey.
While there are only a few $50 surveys that may be offered, it still is a great way to earn a few dollars for your time.
The time taken to complete each survey is anywhere from 2 to 30 minutes, so you can take a few every day and let the money add up.
The minimum cash-out is $5.00. So, if you're wondering how to make $50, it is worth considering Survey Junkie.
Additionally Survey Junkie also offer focus group opportunities that pay up to $150 an hour.
6. Honey app
Make cash when you are doing your shopping online with the Honey app.
If you haven't heard of it, Honey is a sweet little app that works with your online searches so that when you are looking for an item, it will apply automatic coupon codes to your online checkout.
It's pretty good at what it does!
---
Make extra money by browsing the web, watching videos, playing online games and testing new products - clothing, food, cosmetics and more! Its free to join. Sign up for your chance to
get a $5 Swagbucks bonus.
---
Best of all, when you make purchases using Honey, you earn Honey Gold points.
These points add up and as they do, you become eligible for cashing them in to get cash back or gift cards for places that you probably shop at already.
The best part is, you also have the option to redeem your points in the form of cash into your PayPal.
Sounds like a good deal, right?
With Honey, you'll save money on the things that you want and make money for buying those things.
Read how I made $50 with the Honey App.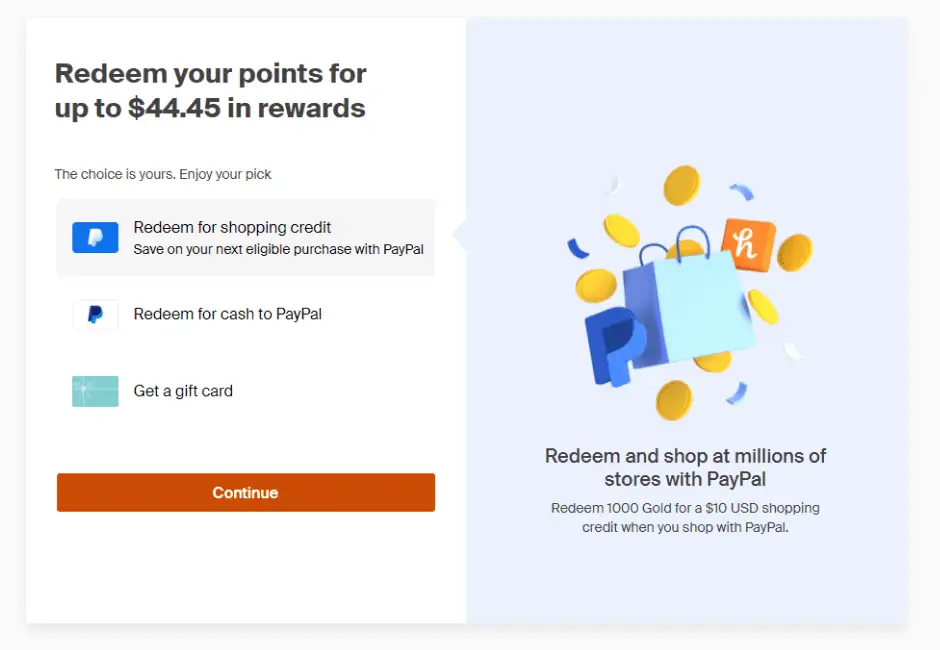 7. DoorDash delivery driver
One of the best ways to make $50 fast and consistently is with DoorDash.
If you have your own vehicle and insurance, you can sign up as a DoorDash delivery driver.
DoorDash deliveries provides delivery jobs to over 4000 cities in the United States, but not just there.
You can also do DoorDash deliveries if you live in Australia or Canada.
First, you file your application to join and this will take 3 to 7 days for approval.
After that, the DoorDash app will send delivery opportunities to your phone.
You'll need to act fast – you've got 40 seconds to accept a delivery if you want it.
If you do, you go to the restaurant listed and mention a name, and then bring that person their order.
Depending on the location and distance of the delivery, you can make anywhere $2 to $10 a pop for deliveries, so if you're willing to hustle then that can be some serious cash in your pocket.
8. Instacart Shopper
Since the pandemic, people have become more and more concerned with staying at home – but they still need groceries.
This is where you and Instacart Shopper come in.
As an Instacart Shopper, you get paid to go to participating stores where you will buy the groceries for an order and deliver them (though in some cases the order is ready-made).
For ready-made orders, you'll typically get $5 per trip, but if you have to find the items on your own then it's generally an additional $7 to $10 for your time.
Even better, if it's a holiday or the Super Bowl is on, then the rates go up quickly and you can get more for your time.
Throw in the fact that you usually get tips, too, and you've got a great way to make money in your free-time!
9. Make 50 Dollars Fast with Respondent.io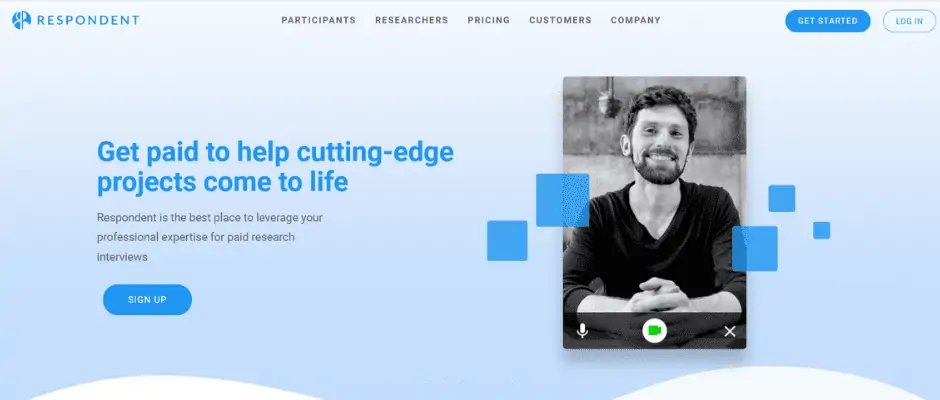 Another website where you can make money by sitting at home and completing surveys is Respondent.io.
What makes them stick out is the higher rate of pay compared to online surveys.
You'll be participating in one-on-one studies from companies interested in getting real consumer opinions.
Respondent.io hooks you up so that you can participate in these studies either online, in person (with local companies), or both!
You can make some serious money doing this. According to their website, you can expect to earn between $100-$700 per study.
Respondent.io also offers excellent referral bonuses — $20 to $50, in fact, for referring your friends.
Definitely something to think about if you want some extra cash for the holidays!
10. Make 50 Dollars today with User Interviews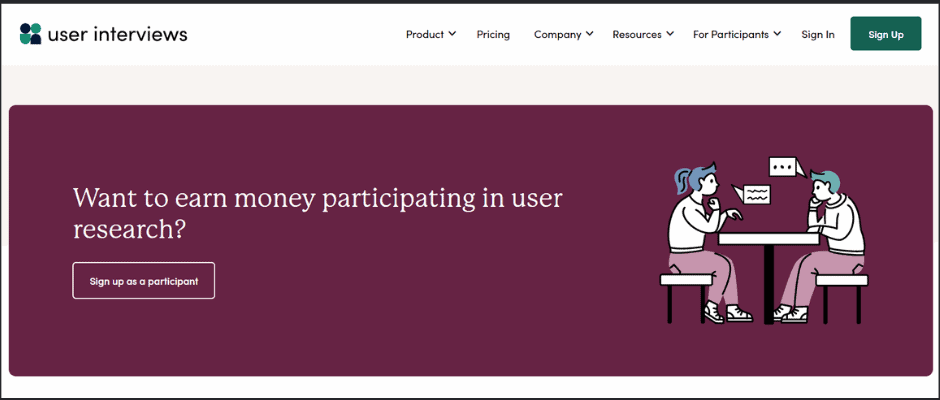 A competitor with Respondent, User Interviews has a similar model where you are invited to take surveys online or in-person and the rates are competitive, with both websites offering the potential to make $100 per hour.
Keep in mind that this is a good supplemental income – it's not a full-time job.
There will only be so many local studies in your area.
That said, if you are willing to take part in the ones that are present you can easily make a good chunk of extra cash with very little effort on your part.
Related: Make money with online focus groups
11. Freelance Writing
Freelance writing is another great way to make some cash for yourself and if you are lucky, you'll even get to see your name in print.
Websites such as Guru, Upwork, and Contena offer you a chance to bid on gigs for different writing jobs.
These can include things like writing list articles, short stories, or even ghost-writing books!
If you have a talent for it, this can be very lucrative, and this is a job that definitely isn't going to pay you in gift cards but in cold, hard cash (well, electronic cash wired to you!).
If you have a talent for writing or even if you just want to develop one, freelance writing can help you to do this.
Check out some other ways where you can get paid to write online.
12. Get 50 Dollars Fast Completing Odd Jobs
Are you a handyman-contractor type with skills to market?
Finding jobs in this day and age is quite a different from what it used to be, and now you can simplify the process with a service like Task Rabbit or Airtasker.
So, how does it work?
These sites offer to pay you for completing odd jobs, and connects you with people looking for help in completing small jobs.
As you complete tasks, your customers can give you reviews, and as you build up your good name you can get better rates and referrals and start getting paid the money that you deserve.
As it turns out, it's a solid business model, with the average pay rate being around $36 per hour on up to $60 per hour.
So, if you've got the skills, be sure to check out Task Rabbit. It's got the potential to make you a lot of money!
13. Online Tutoring
Teachers don't get paid enough, but that might be changing – websites like tutor.com and studypool.com give teachers a chance to share their knowledge online and get paid for it.
You set an hourly rate for the subject that you teach, share your knowledge, and your earnings go straight to the bank.
With tutor you will be teaching people, while study pool hooks up students with tutors who can answer questions for them.
While these are different ways to share your knowledge, both pay quite well, so if you're a teacher looking for work where you will be highly valued, these websites are well-worth your consideration.
14. Earn $50 Selling On Etsy
Etsy is an e-commerce store that allows you to sell your own custom-made goods.
This can be fashion accessories, greeting cards, printable wall art and other handmade home decor items.
If you enjoy creating crafts, considering opening an Etsy store to make money online.
Here are a list of things to make and sell on Etsy that are currently popular.
Final Words on How to Make $50 fast
As you can see, no matter what your current skill level is, if you want to make money then you can do it.
Just find one or more of the sites that you like from our list and get started today.
The earning potential is excellent and all of these sites are legit, so what are you waiting for?
Go out there and get your own piece of the pie – start making money today!